The story could have been very different for three stray, six-week-old kittens had they not been brought to the BC SPCA East Kootenay Community Animal Centre.
But on September 27, 2021, when a kind Samaritan brought Olive and her siblings to us, their story changed from that of struggling outdoor cats to that of treasured companion animals.
The litter immediately went into one of our foster homes while they were treated for parasites and ear infections, gained weight and became socialized. When they were strong enough, they were spayed or neutered and vaccinated.
Kittens are resilient and irresistible to so many adopters, so they all found homes quite quickly. This is the story of Olive:
"After bringing a kitten home we soon discovered he was in need of a friend.
I found Olive on the BC SPCA website and she was similar in age to our boy at home. Upon receiving a call from the shelter to come and meet her, we drove three hours to meet a tiny kitten curled up in a ball with a big cone on her head from her recent spay surgery. I quickly fell in love and we took her home.
Once home, it was a couple weeks of battling the cone, then a slow introduction to our other kitten and our dog. Olive quickly settled into the house cat lifestyle.
Olive had a spicy attitude that had her running up to our dog and hissing and running away. Their relationship quickly blossomed, unless she tries to cuddle up to her. Her relationship with our other kitten developed quickly and they were soon best friends.
Olive was quickly adjusting to us as well. Wherever you sat down she was soon running to be in your lap to get as much attention as she could. "Go cats go" is now a daily, and mostly nightly, activity in our house.
Olive has recently found her love for sitting in the window watching the world pass by as well as the laser pointer. She can hear the laser being picked up and comes barrelling out of whatever napping place she had found.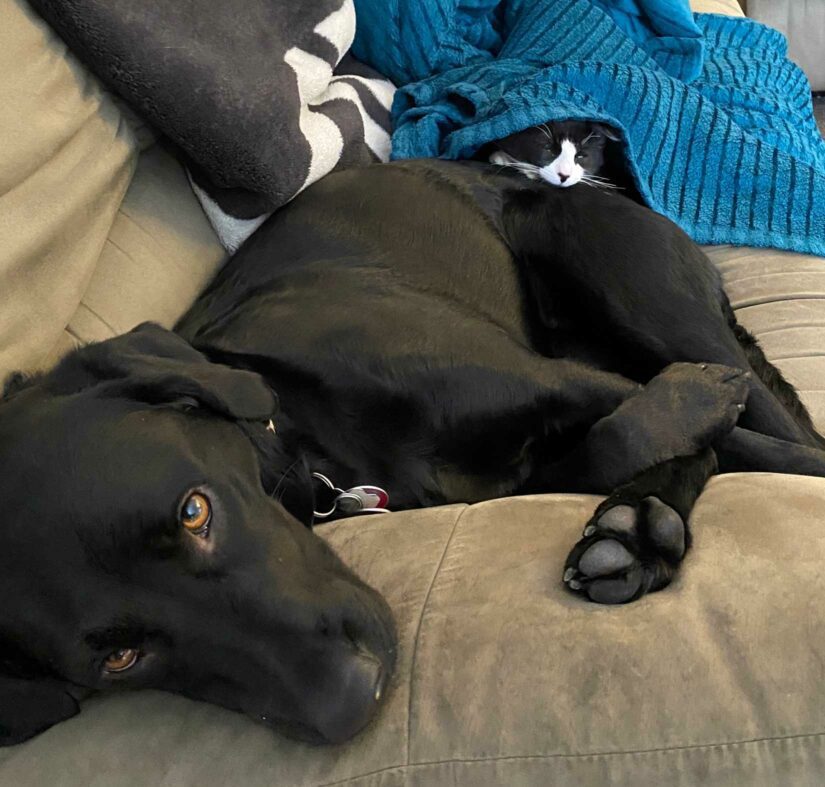 Her spunky personality disappears very quickly if anyone new comes into the house, but it is a work in progress. She has been an absolute joy to have, she has really completed our little family."
If we hadn't seen the transformation time and time again, it might be hard to believe that spunky, healthy little family member is the same sickly, frightened kitten that came to us only months before. But that's just what love and a good home can do.
Thank you so much for making the decision to adopt and give all your animals such good lives.
Have you adopted an animal from the BC SPCA and want to share your joy with others? Submit your adoption story!