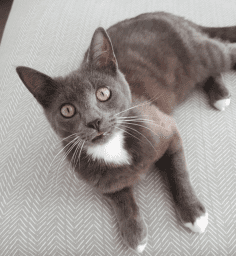 In October 2017, Loki was surrendered to us with his two sisters at the BC SPCA Williams Lake and District Branch.
At the time, Loki was just over three months old with such a sweet and lively attitude, and not to mention incredibly easy on the eyes. We knew he would be adopted quickly. We just needed to expose him to more people.
So, we drove Loki down to the lower mainland via the Drives for Lives program and placed him in what used to be the BC SPCA Port Coquitlam Branch (now reopened as the BC SPCA Tri-Cities Education and Adoption Centre).
Within just a couple of weeks, Paige came along to the shelter and immediately fell in love with Loki. Several months later, we have received an update that she would like to share:
We adopted Loki from the BC SPCA Port Coquitlam Branch on October 21, 2017 when he was just four months old.
Throughout the past several months, he has grown into a handsome and dapper boy who is quite cuddly, loves hiding in blanket forts and expresses his love vocally whenever we come home as well as throughout the day.

Once we walk through the door, Loki won't let us get very far before he meows to be picked up and cuddled—he demands our attention before we can even put our stuff down.
Loki is exceptional at catching toy mice mid air and loves when we make a game out of it. He is curious, full of energy and never fails to make us laugh on a daily basis.
Thank you, Paige, for choosing adoption as your first option and for giving Loki such a loving home to grow into the best cat he could be. He couldn't possibly look more elegant than he does wearing his bow tie! Loki's blanket fort antics and cuddle traps prove that he has found the purrfect forever family to call his own.