Tri-Cities Education & Adoption Centre
Please note: the BC SPCA Port Coquitlam Branch has relocated to 1- 2565 Barnet Highway and is now called the BC SPCA Tri-Cities Education and Adoption Centre.
Phone:
(604) 468-4044
Emergency phone:
(604) 879-7343
(Night, 5 p.m. to 12 a.m.); After hours: call your local police or RCMP
Cruelty Report and Wildlife Support Line (Toll free):
1-855-622-7722
Address:
1- 2565 Barnet Highway Coquitlam BC V3H 4E2 CA
Services offered:
Adoptions, Kids camps/programs offered, Education centre, Community outreach, Pet Products & Retail/shopping
Email:
tricities@spca.bc.ca
Please note, due to the volume of emails received daily we may not be able to respond immediately. Should you need urgent assistance, please call.
Serving the following communities:
Coquitlam, Port Coquitlam, Port Moody and surrounding areas.
Hours of operation:
Thursday to Tuesday:

12:30 to 5:30 p.m.

Wednesday:

Closed

Stat Holidays:

Closed
1- 2565 Barnet Highway Coquitlam BC V3H 4E2 CA
Adoption fees*
*Fees vary by location and are subject to change without notice. Adoption fees are subject to PST (Provincial Sales Tax), which will be added at the time of adoption. All BC SPCA cat/kitten/dog/puppy/rabbit adoptions include a microchip and lifetime registration with the BC Pet Registry. Registration for lifetime protection is $45 for cats/kittens/dogs/puppies and $11.25 for rabbits, which will be added to the adoption fee. For more information please visit bcpetregistry.ca
Learn what's included in your adoption fee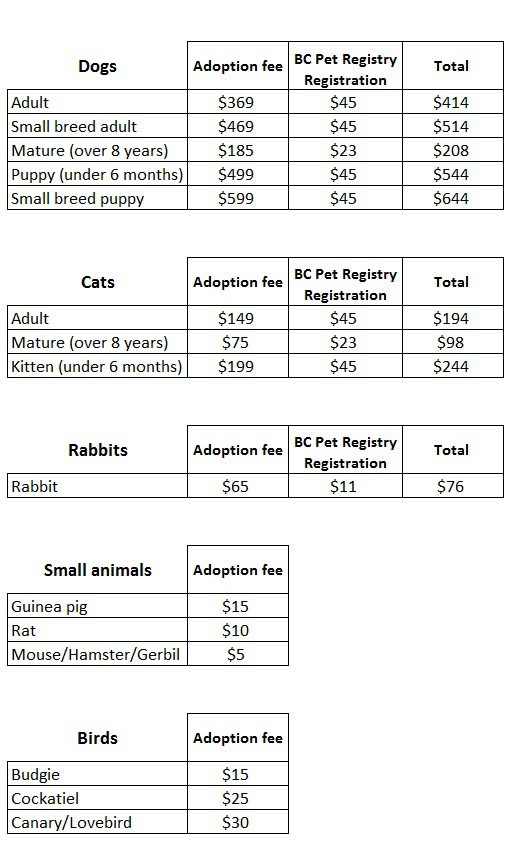 Welcome to the BC SPCA Tri-Cities Education & Adoption Centre. We are one of 44 BC SPCA locations across the province serving sick, neglected, abused and homeless animals. Whether you are looking to adopt a new furry friend into your family or would like to know more about how you can make difference for animals in our community, we are here to help. The BC SPCA is a not-for-profit organization which relies primarily on community donations to help animals in need. Please join us in the fight against animal cruelty!
Search adoptable animals available through our location >>
Please note that our facility does not provide animal control services such as lost, found or surrendered animals, thank you.

For general inquiries, please call 604-468-4044 or email tricities@spca.bc.ca.
Do you love animals and want to make a difference? Learn more about volunteering at our branch. For inquiries about volunteering, please email tricitiesvolunteers@spca.bc.ca.
Book your child's next birthday party at the BC SPCA! If you have questions or would like to book a party, please email tricitiesworkshops@spca.bc.ca.
Come read with the animals and join our Book Buddies program! This program runs at our branch and after school on Mondays, Tuesdays and Fridays. Reading sessions are 20 minutes long. Contact the branch book your time today.
For animal services inquiries, please contact the municipal agency for your area:
Anmore (Mon.-Fri., 8:30 a.m. – 4:30 p.m.): Village Hall, 604-469-9877
Belcarra (Mon.-Fri., 9:00 a.m. – 4:00 p.m.): Village Hall, 604-937-4100
Coquitlam (Mon.-Fri., 9:00 a.m. – 8:00 p.m.; Sat., Sun. & Holidays, 10:00 a.m. – 4:00 p.m.): Coquitlam Animal Shelter, 604-927-7387; Coquitlam (after hours): Coquitlam RCMP at 604-945-1550
Port Coquitlam (Mon.-Fri., 8:30 a.m – 4:30 p.m.): Bylaw Service, 604-927-5440
Port Coquitlam (lost/found animals and after hours): Countryside Kennels, 604-945-0125
Port Moody (Mon.-Sun., 7 a.m. – 5 p.m.): Bylaw Enforcement, 604-469-4697
Port Moody (dog bites and after hours): Port Moody Police, 604-461-3456
Port Moody (lost pets): Coquitlam Animal Shelter, 604-927-7387
Upcoming events
24th February 2020: BC SPCA Treat Week™
Pre-heat your ovens – it's Treat Week! Treat Week is your way to help BC's animals! Set up a fundraising page to collect donations, then give a treat of your choosing as thanks to the friends and family who donate to your page! While celebrating Treat Week February 24 – March 1 in your community, …
Continue reading "BC SPCA Treat Week™"
Learn More
23rd February 2020: Blues for Paws
Blues for Paws Join us on February 23, 2020 Fairview Pub 898 W Broadway, Vancouver Get Tickets Coming to the Fairview Pub is the 12th Annual "BLUES for PAWS" for the BC SPCA Hosted by ROB MONTGOMERY. Supporting the work of the BC SPCA's Charlie's Food Bank and Veterinary Clinic in Vancouver. Featuring …
Continue reading "Blues for Paws"
Learn More