Tri-Cities Education & Adoption Centre
Please be advised that the BC SPCA Port Coquitlam Branch has relocated to 1- 2565 Barnet Highway and is now called the BC SPCA Tri-Cities Education and Adoption Centre.
Phone:
(604) 468-4044
Emergency phone:
(604) 879-7343 (Night, 5 p.m. to 12 a.m.); After hours: call your local police or RCMP
Address:
1- 2565 Barnet Highway Coquitlam BC V3H 4E2 CA
Services offered:
Adoptions, Kids camps/programs offered, Education centre, Community outreach, Pet Products & Retail/shopping
Email:
tricities@spca.bc.ca
Please note, due to the volume of emails received daily we may not be able to respond immediately. Should you need urgent assistance, please call.
Serving the following communities:
Coquitlam, Port Coquitlam, Port Moody and surrounding areas.
Hours of operation:
Thursday to Tuesday:

12 to 5:30 p.m.

Wednesday:

Closed

Stat Holidays:

Closed
Adoption fees*
*Fees subject to change without notice. All BC SPCA cat/kitten/dog/puppy/rabbit adoptions include a microchip and lifetime registration with the BC Pet Registry. Registration for lifetime protection is $45 for cats/kittens/dogs/puppies and $11.25 for rabbits, which will be added to the adoption fee. For more information please visit bcpetregistry.ca.
Learn what's included in your adoption fee
Welcome to the BC SPCA Tri-Cities Education & Adoption Centre. We are one of 44 BC SPCA locations across the province serving sick, neglected, abused and homeless animals. Whether you are looking to adopt a new furry friend into your family or would like to know more about how you can make difference for animals in our community, we are here to help. The BC SPCA is a not-for-profit organization which relies primarily on community donations to help animals in need. Please join us in the fight against animal cruelty!
Search adoptable animals available through our location.
Please note that our facility does not provide animal control services such as lost, found or surrendered animals, thank you.

For general inquiries, please call 604-468-4044 or email tricities@spca.bc.ca. For inquires about volunteering at our branch, please email tricitiesvolunteers@spca.bc.ca.
For animal control inquires, please contact the municipal agency for your area:
Coquitlam: Coquitlam Animal Shelter, 604-927-7387
Port Coquitlam (Mon.-Fri., 8:30am-4:30pm): Bylaw Service, 604-927-5440
Port Coquitlam (after hours): Countryside Kennels, 604-945-0125
Port Moody (Mon.-Sun., 7am-5pm): Bylaw Enforcement, 604-469-4697
Port Moody (after hours): Port Moody Police, 604-461-3456
Port Moody (lost pets): Coquitlam Animal Shelter, 604-927-7387
Adopt Me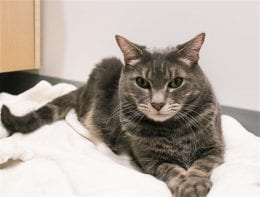 Pete has been having a little trouble settling in the the shelter environment. When he comes out of his shell, he is a real sweetheart, but he does sometimes swat you away if he's feeling scared. He is a beautiful boy with a quiet, somewhat shy personality. Recently, he has started to show lots of affection by rubbing against us and jumping into our laps. Pete is looking for a calm home with no other animal and with someone who understands his quirks.
Name:
Pete
Age:
10 years
Gender:
Male
Animal ID:
455158
Breed:
Cat
Upcoming events
3rd July 2018: Tri-Cities BC SPCA summer camps
Calling all campers! Registration is now open for our 2018 summer camp season at multiple locations, including our new Tri-Cities branch in Coquitlam! Campers will have a blast playing games, learning from animal experts, doing hands-on activities, and spending time with some of the animals at the branch. They will leave camp feeling inspired and …
Continue reading "Tri-Cities BC SPCA summer camps"
Learn More
31st May 2018: BC SPCA pet behaviour speaker series: 10 Things your dog wishes you knew
The BC SPCA presents an evening with internationally known animal behaviour and training consultant Chirag Patel. Learn what motivates your dog's behaviour and watch hands-on demonstrations on how to address common behaviour issues through humane training. Following his presentation, Chirag will be joined by the BC SPCA's Senior Manager of Behaviour and Welfare, Dr. Karen …
Continue reading "BC SPCA pet behaviour speaker series: 10 Things your dog wishes you knew"
Learn More