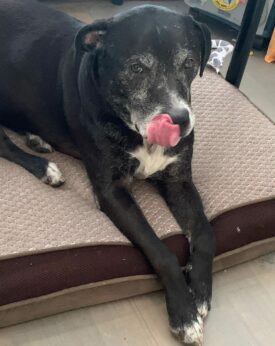 Building trust and comfort isn't always a smooth journey for our animals, even once they are in their forever home.
In the late spring of 2021, Loki was surrendered to the BC SPCA Burnaby Community Animal Centre for medical reasons. At 10 years old, he found himself looking for a fresh start.
When Sharon met Loki, she knew she wanted to give him a second chance at life. A big question in her mind was how he would get along with her dog Axl. There was only one way to find out—she brought Loki home.
After a rough start, Loki is settling into his groove in his new home with Axl, Sharon and her partner. Several months in, Sharon has shared their story with us:
"When I brought my dog Axl to meet Loki, it was not love at first sight. I felt sorry for Loki that at 10 years of age, he was up for adoption. The dogs did not seem to mind each other at first, so I adopted Loki.
Just a couple days in, Loki attacked Axl. I believe this happened because we did not establish any kind of hierarchy when I brought Loki home.

Now, things are much better. Loki loves pets and cuddles; he leans into me when I'm petting him and even puts his paw on me. He is being so good with Axl these days, but Axl still gives him the side-eye. It will take a while for Axl to warm up to him again.
Recently, the two doggos have been sneaking up to our bedroom in the early hours of the morning and jumping into bed with us.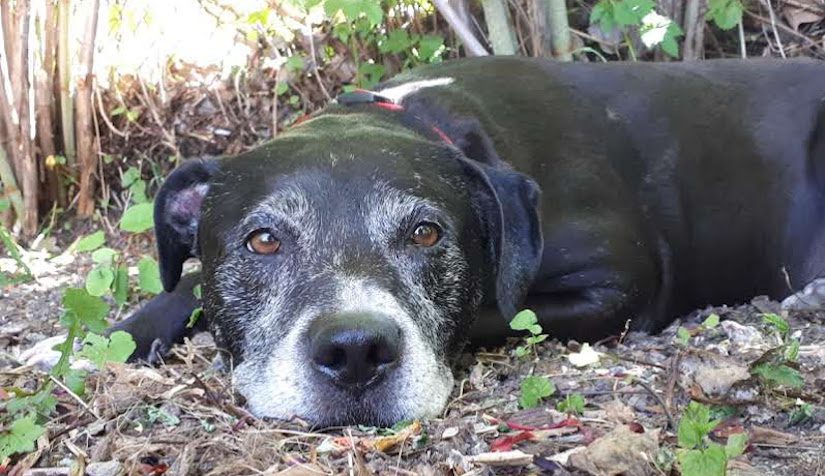 This past summer has been a lot of fun with the dogs. Loki came up to Whistler with us, where he walked the trails and swam in the lakes. He also came to the lake house with us, met a toad, walked the trails and swam in the lake there too, but we think that he prefers the reeds. He plows through the reeds at the lake's edge and chomps on them. What a goof.
Loki has already grown on us so much and we really love him a lot. He is quiet yet persistent when he wants affection.
He rolls on his back in the grass and makes all sorts of grunting noises. Loki gets the zoomies—especially after a bath. Here's to many more years of goofiness!"
Thank you, Sharon, for adopting Loki. You have shown tremendous commitment to him even in these short months as you have worked on his behaviour with him after that difficult first week. We are glad to hear that Loki and Axl have made progress. They will surely learn to love one another as they build trust and form a bond. Thank you for giving Loki such a loving home at this time in his life. We wish you many more happy years with this sweet guy.
Have you adopted an animal from the BC SPCA and want to share your joy with others? Submit your adoption story!