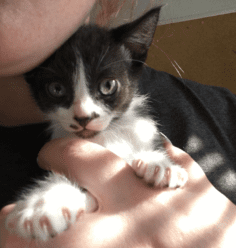 Not only do we crave the companionship that our furry friends have to offer, but often our pets rely on the companionship of their siblings as well.
Christine's cat, Indi, was sad and lonely when his feline sister passed away, but Christine wasn't quite ready to adopt again.
One day in November 2018, within a month of his feline sister's passing, Indi saw an adorable kitten on T.V. He couldn't wait to introduce himself to his new friend. Within seconds, the kitten seemed to disappear. Indi looked at Christine, confused, who was looking back at him with empathy and determination.
The next day, Christine came home with a handsome young black and white kitten, this time for real.
Christine wrote to share the story of how she came to adopt Frank Frank Sir Pawsworth:
I have always had two cats, and sadly this year, in late October, I had to put down my older girl due to liver cancer.
The male that I had adopted as a companion for her, Indi, had never been the only cat in a household. He was super depressed.
I hadn't planned on getting a new cat so soon. I was going to wait because I wasn't ready yet.
But, I was watching TV with Indi one night, and a commercial featuring a kitten came on. He perked right up. He was so excited that he started trilling at the TV and ran up to it to try to introduce himself to the kitten. When the commercial ended, he shrank, visibly.
The next day I went off to the BC SPCA Burnaby Branch to find him a kitten.

I checked online first and saw the litter of four kittens that had recently been rescued. I saw Frank Frank Sir Pawsworth and I took him home.
Once he came home with me, I secluded him in a separate room with one of Indi's blankets and went to do dishes. Within minutes Indi was at the door. He and Frank Frank Sir Pawsworth were both trilling and playing through the door.
So I thought, why not see what happens? I let him out and they have been inseparable ever since. Needless to say, I picked the right kitten for my family.
Thank you, Indi, for inspiring Christine to adopt Frank Frank Sir Pawsworth, giving another cat in need a loving home for life. It is cats like you who guide the young kittens we adopt out into being the best possible cats they can be. Christine, thank you for giving so much of yourself to your animals and for sharing the story of Indi and Frank Frank Sir Pawsworth.
Have you adopted an animal from the BC SPCA and want to share your joy with others? Submit your adoption story!