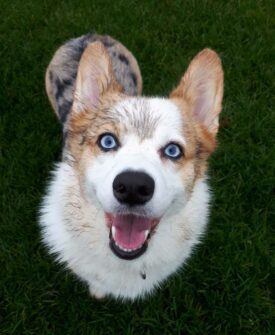 Most people know that our organization's acronym stands for the Society for the Prevention of Cruelty to Animals. But you may not know just what it takes sometimes to honour this vital mandate.
On September 23, 2020, the BC SPCA Cruelty Investigations Department seized so many dogs from a rural property into protective custody that we had to assign them numbers instead of names. Three-year-old Corgi, Libby, started her journey with us as "#55."
No one shelter has the capacity to deal with so many animals in dire need, at one time, so the dogs were separated into groups and taken via our Drive for Lives program to various shelters across the province. From here, most went into foster care until they had undergone treatment and socialization.
The dogs were of all ages and several breeds. All needed to be examined, treated for any medical issues, assessed and rehabilitated for behavioural issues, vaccinated, microchipped and neutered or spayed.
When they were ready, each dog was placed in one of our shelters, waiting to be matched to a human family.
Some of them, like Libby, never made it past their foster guardians. They fell in love with Libby's sweet, affectionate and playful nature and decided to officially make her part of their family on December 10, 2020.
Here is the story of Libby's happy ending:
"We have been foster parents for the SPCA for over 25 years but have always only had mama cats and their kittens, or just recently have taken some orphaned kittens.
I have always wanted a dog but with working and a busy life, it just didn't seem the right time. I retired four years ago and started thinking that now was the time.
I knew it is a big commitment and trying to think of our future living conditions we knew it had to be a smaller adult dog in case we had to downsize and needed to go into a strata-type housing. The dog also needed to be good with little kids and a lot of confusion as we have a large family and young great-grandchildren.
In October 2020 I met Libby. She was part of a large cruelty apprehension done by the Cruelty Investigations Department and was 1 of 11 dogs in care at the BC SPCA Chilliwack Community Animal Centre shelter. I brought my husband in to meet her and although he wasn't sure this was what he wanted to do he fell immediately in love with those big, blue eyes.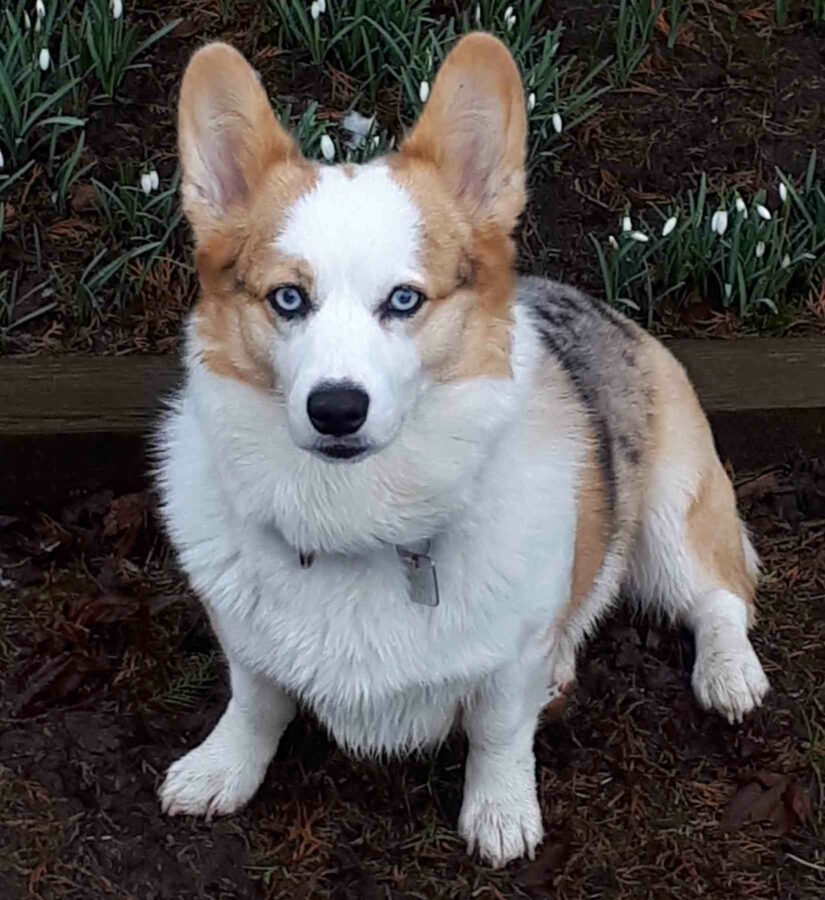 We brought her home as a foster and on December 10 we signed the adoption papers, making her a permanent part of our family.
I can't say enough about how much Libby has added to our lives. She is so full of love for everyone and so good natured. We could not have asked for a better pet.
She had some feeding issues in the beginning but I think those are behind us. She has gained her "Covid 15" and is one happy puppy. She is quite the "hit" everywhere we go; people just can't get over those eyes.
People comment on how lucky she is to be rescued by us, but I honestly feel she rescued us. There isn't a morning that we aren't thankful that Libby came into our lives and I would never hesitate to do it again."
Sometimes the perfect space opens up in our lives to allow us to adopt a companion animal. Other times the animal that speaks loud and clear to our heart comes along and makes the time right.
We are so glad that your path coincided with Libby's. Thank you for choosing to adopt her.  May you enjoy many more happy years together.
Have you adopted an animal from the BC SPCA and want to share your joy with others? Submit your adoption story!