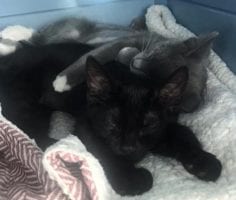 Meet two adorable sisters, Josie and Storm. Josie is all black and Storm is grey with white markings.
These little stray kittens were found living in a garbage dump in Anahim Lake, in January 2018.
They would have been about seven weeks old at the time, too young to even be weaned from their mom, but they survived long enough for a Good Samaritan to bring them to the BC SPCA Williams Lake & District Branch.
The shelter went into action right away. They examined and treated the kittens, vaccinated and spayed them, and put them immediately into an approved foster home until they were strong and healthy enough to be shown off to potential adopters.
Fostering is a vital part of the BC SPCA adoption program. Foster families take animals who are too young, not yet sufficiently socialized, or recovering from illness or injury, until they are ready to meet potential adoptive families.
We're happy to report that healthy, twelve-week-old Josie and Storm went to their forever home on February 24, 2018.
Read below about how well they're doing now.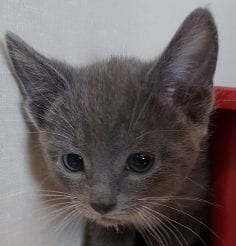 Josie and Storm are making themselves at home in our suite, always exploring and playing.
We had four scratch posts waiting for them when they got home from their three-hour trip, and they love napping on top and are utilizing them greatly.
They are always together, whether it's playing, chasing a string and, of course, always cuddling together.
We absolutely adore them and are super happy we made the trip (to Williams Lake).
After everything they went through to find a loving, comfortable home, we're not surprised that Josie and Storm look and sound like they are very bonded. Which makes it all the more important that they went to their new home together.
Thank you for deciding that you had room in your home and your hearts for these two kittens, so that they could stay together and thank you for making adoption your first option.