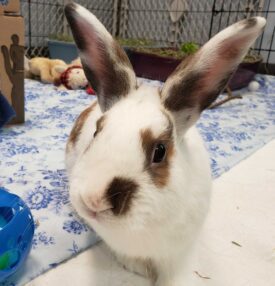 Erasmus, an American Fuzzy Lop rabbit, was surrendered to the BC SPCA Kamloops Branch on July 30, 2019.
At three years of age, this handsome fellow found himself homeless, as his owner was moving and could not find pet-friendly housing.
But this outgoing bunny was friendly with kids, cats and dogs, and it wasn't long before a savvy adopter recognized him as the perfect match. 
By August 24, 2019, Erasmus was on his way to his new forever home. Read on to hear from his new human companion how Erasmus is thriving now.
I first saw Erasmus  last year when working as a camp counsellor at a BC SPCA camp. I was looking through the society's adoptable animals with the kids during snack break, and knew he was the bunny for me!
One year ago today, we took a four-hour drive out to meet him, and brought him home to the Lower Mainland where he quickly stole many hearts.
True to the word of the staff at the BC SPCA Kamloops Branch, he was a total sweetheart and got along well with everyone! In fact, he was so good with everyone he met that we decided to try bringing him along to school presentations.
Erasmus loves helping the kids learn (and then getting spoiled with treats and attention right after).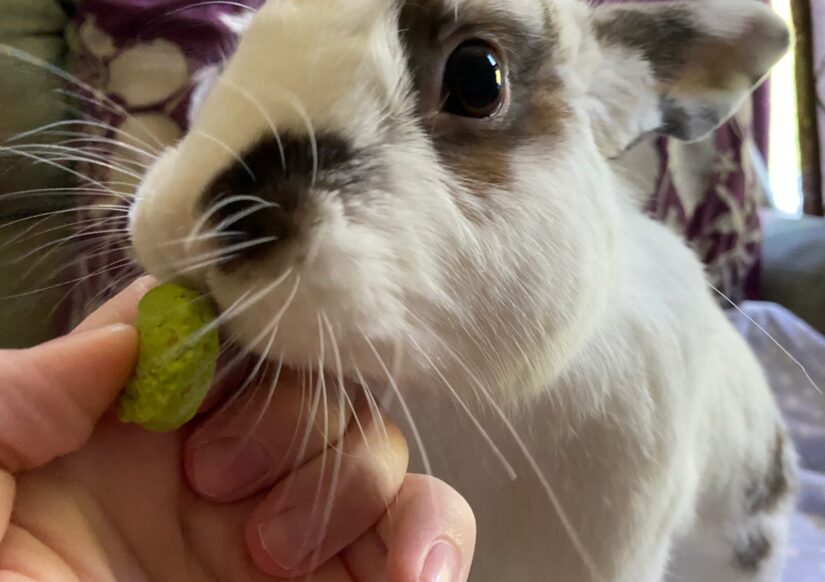 This summer, since our camp was online, Erasmus got to feel like a superstar as he was in many videos and live sessions teaching the Five Freedoms of bunny care. He's a great mini humane educator, and helps the kids apply what they're learning.
During his (many) free hours, Erasmus loves to snuggle up under a blanket in my lap and do whatever I'm doing, unless I pay more attention to it than him. He is definitely an attention hog, and makes up for it by giving my hands lots of baths in return.
He is also very good at chewing up his toys and redecorating his pen with the remains.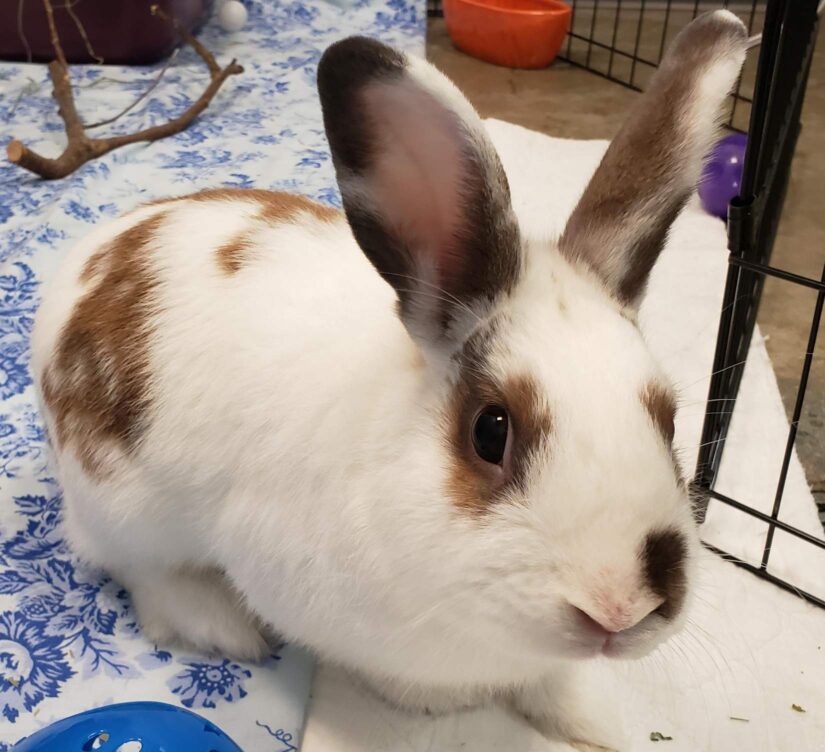 Many people are impressed with how smart he is, as he can solve his puzzle feeders in seconds, and my family (who had pet bunnies on a farm growing up) are always impressed by how well-trained and snuggly he is.
How cool is that! Erasmus not only has a loving home, but also a new career as an animal ambassador. It sounds like he's really good at it, too.
A lot of people think of us as a great place to adopt a dog or a cat, but we also have other wonderful small animal companions looking for forever homes.
Thank you for choosing to adopt Erasmus and for giving him such an enriched life.
Have you adopted an animal from the BC SPCA and want to share your joy with others? Submit your adoption story!