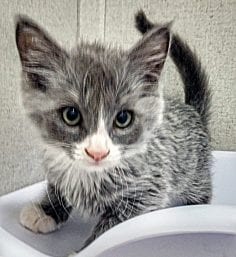 Chimichanga came to the BC SPCA Sea to Sky Branch as part of a litter of young stray kittens in May 2017.
Just a small smoky ball of fluff, he was too young to adopt out at this time, but eventually we brought him to a Bosley's pet store so he could meet more people and, we hoped, his future companion.
Meanwhile, Erin was reeling from the heartbreak of losing her long-time feline family member, Fluffy. Understandably, she wanted to look for another kitty to love, and so Erin was on the hunt for a new pal to adopt.
After a long search, Erin met little Chimi at Bosley's and fell in love. Now, a year later, we have an update from Erin that she would like to share:
Chimichanga came into my life at a time of loss. About a week before, I had to put down my beloved cat, Fluffy. He would have been 18 years old that September, myself having just turned 23.
After a long day of not connecting with any of the adult cats or many kittens at shelters, I finally went to Bosley's to meet a litter. I saw this small grey kitten with white streaks and my heart melted. I knew he was going to help me through this loss and that is exactly what he has done.

Although I adopted him at eight weeks old, something must have terrified him. He would not go near any man, including my father, who all cats seem to love the moment they meet him.
Chimi requires multiple short interactions with strangers with a clear escape route, but with enough patience you may get lucky enough to have a Chimi cuddle.
My relationship with this cat is nothing that my parents have seen before. When I open the door after getting home from work, he runs down the stairs to greet me with a playful rolling meow and immediately wants to be picked up. Unless I'm home, he will hide out somewhere in the house and he won't be seen.
Today is our first anniversary of being together and I can't wait for a lifetime of love. When I got Chimi I made a promise to him: "I promise to love you as much as I did Fluffy if you promise to love me as much as he did." So far, we are both living up to those promises.
Thank you, Erin, for adopting Chimichanga into your life and into your home. We appreciate how much you value the companionship of your beloved cats, and how difficult it is to go without this kind of bond once you have experienced it for so long. Your story is one that shows us when you open your heart even during the hard times, love will enter.