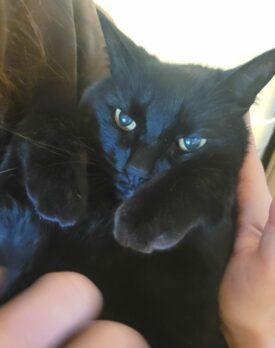 Sometimes, we make a personal connection to an animal unexpectedly. Jessica and her partner wished to make their house feel like a home. They knew having a furry friend to care for and share their space with would make their place much more comforting.
Although they initially searched for a kitten, Jessica and her partner couldn't take their minds off Chester, a very handsome adult cat available for adoption through the BC SPCA Cowichan Community Animal Centre.
In December 2020, Chester joined his new family, and Jessica has now written to us with an update:
"When we first moved into our house, we were told it was going to take time to make it a home.
As the months went by, my partner and I spoke about adding a furry friend into our lives. So, we started the search and found our Chester.
At first, kittens were on the top of my list, but when we came across Chester's profile. He grew on my partner immediately. Chester surprisingly looked so much like his old dog who also had the name Chester. It just made the two stick like glue.
When we went to meet our boy, he was shy, scared and unsure about us. This was understandable since he had been through a lot. He was found as a stray, so we had no history on him.
Then Chester came home with us, and our chapter began.
It took him about six to eight hours of hiding before he got comfortable enough to decide to sit beside me. My heart was pounding. I was excited and nervous. He was my first kitty. I wanted him to have an amazing life.
As time went on, Chester began to come out of his shell each day.
He is the biggest snuggle bug of all time. He demands to be picked up and plopped on his back, and to be cradled like a baby. He rubs his face up against ours, getting his drool all over us—ew—but we still love him.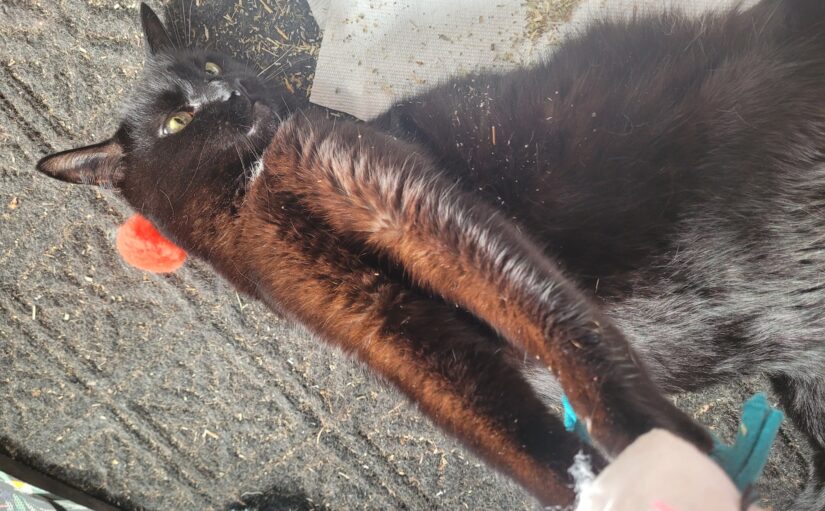 Chester has quite a voice on him. He talks to us with all sorts of meows. My favourite is when he squeaks.
He is a purr machine. Whenever we give Chester affection or hold him, that motor gets going!
We love him so much. We're happy to get home after long days at work and he greets us at the door with a meow, twirl and stretch.
We're so excited to share our little story with you. It has been a wonderful time over the last almost three years. Chester is happy, healthy and living life to the fullest.
We hope to add another furry friend for him some day.
Thank you for helping so many animals in need of homes. You guys go every step of the way and even further for those animals who have had it rough."
Thank you, Jessica, to you and your partner for adopting Chester. We appreciate that you were open minded and adopted an older cat in need even after searching for a kitten. We can see how much love Chester has surrounding him and we adore seeing how he is the centre of your world—just as he deserves. We wish you many more happy memories to be made over the years to come.
Have you adopted an animal from the BC SPCA and want to share your joy with others? Submit your adoption story!
Resources for cat guardians
How do I know if my cat loves me?