Often, it seems that it is our animals who pick us. This was certainly true when M.C. met Charlie at the BC SPCA Tri-Cities Education & Adoption Centre in September 2023.
During her time in our care, we discovered how sweet and affectionate Charlie was. She was overflowing with love and couldn't wait to give it to her future adopter.
M.C. happened to visit the shelter on the very day that Charlie was available for adoption. Coincidence or fate—we may never know. Either way, Charlie wasted no time when M.C. entered her room. She caught M.C.'s attention and immediately used her charm to win over her new guardian.
A few weeks later, M.C. has written to us with an update:
"I came to the BC SPCA Tri-Cities Education & Adoption Centre to get my dose of 'cat love' while my car was being serviced at the mechanics across the street.
I had no plan to adopt whatsoever. I was still mourning the loss of my cat Priscilla, who passed in June 2022.
I was in there 'just to look'. Famous last words. So I went in, I saw and petted several cats. I was doing fine. Then, I saw one black cat (like my Priscilla) and got emotional.
I walked away and into another room, and that's when I spotted the meowing mama cat, Charlie. At first I thought she was like a whiny child, but I was intrigued. Once I picked her up, she stopped meowing, calmed down, smelled my chin, rubbed her nose on me and started purring. I was hooked.
They say pets pick their owners… Well, she picked me—'tag, you're it!'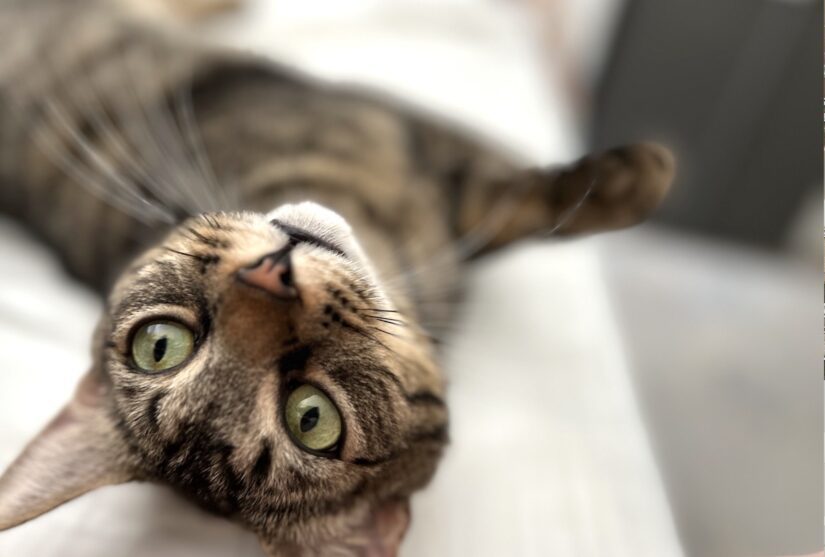 Half an hour after arriving home, Charlie was mellow-yellow, cleaning herself and licking her paws. No stress. No sad meows. No hiding under the bed.
In the three weeks since Charlie has been here, I look forward to coming home. We are getting to know each other every day. I find her personality meshes very well with mine.
She likes my taste in music, I think. Either that or it puts her to sleep. She tells me when it's time for bed by finding me, meowing very loudly, then yawning in my face. She makes me laugh and surprises me with her tricks.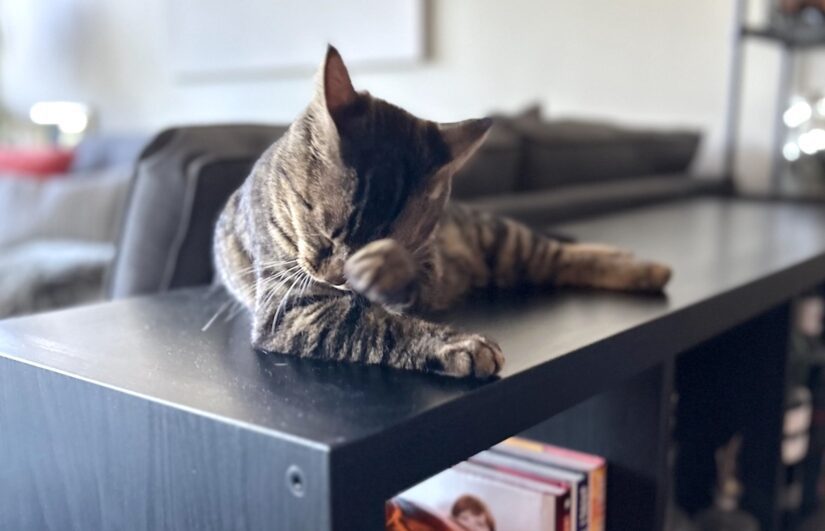 Charlie is spunky, curious, elegant but also a tomboy. She must have Bengal in her because she can jump very high with little to no effort at all. She loves to play and chase her toys, uses her scratch pads all the time and loves to chill while watching birds from the large windows.
I'm glad that Charlie is comfortable in her forever home. I couldn't see my life without her in it now."
Thank you, M.C., for adopting Charlie. We are so grateful you happened to come by the BC SPCA Tri-Cities Education & Adoption Centre that day, and it sounds like Charlie is too. We are thrilled that you met your match in Charlie's lovely personality. We wish you many more happy years making beautiful memories together. You make the purrfect team.
Have you adopted an animal from the BC SPCA and want to share your joy with others? Submit your adoption story!
Resources for cat guardians
How do I know if my cat loves me?