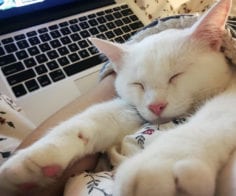 Sometimes it can seem like we search for our furry companions forever with no result.
When Casper was surrendered to us in May 2018, he was very friendly—much like his ghost namesake—to us right from the beginning. We knew he had a lot of love to give to his future humans.
Annie and her roommate had been searching for a cat to share their home with for quite some time when in June they went to the BC SPCA Tri-Cities Education and Adoption Centre to meet the cats there. This definitely wasn't the first shelter on their list, and they weren't expecting to meet their third purrfect housemate there.
But then, Casper greeted them with his golden-green eyes and headbutts.
Four months later, Annie has shared an update with us on Casper's time in his new home:
It was a random decision to bring Casper home. Don't get me wrong—the decision to adopt an animal is a big one, and it must come from rational thought.
My roommate and I had been seriously considering adopting a cat for a long time. We both grew up with family cats, fostered our friend's cat for months when she was away, browsed through the BC SPCA's adoption website for months and we even visited multiple BC SPCA branches, trying to find our perfect purr-buddy.
Then, we met Casper. It was love at first sight.
Casper has been with us for four months now, and he has been the most incredible cat ever. He loves exploring our neighbourhood and is a master at walking on a leash. We didn't even have to leash-train him. He loves watching TV with his humans. ("Angry Bird" is his favourite show.) He also loves to play fetch with his treats.
Casper is a super chatty, affectionate and handsome guy who loves attention. He'll sit on our laptops when we're doing homework and meow at us until we stop and give him the petting session he demands. More often, he'll just cuddle up with us, purring, and keep us company while we're busy with school work. He loves his humans and he's very generous with his kisses.
At three years old, Casper was a relatively older dude when we took him home. He has some skin issues and stage-two gingivitis but it doesn't stop him from being the best cat in the world. He is just as playful and loving as any other kitty out there.
We wanted to share our story of Casper to inspire more people to consider adopting older cats because they're awesome and full of love. We're so glad that we can be his forever home and love him so very much.
Thank you to you and your roommate, Annie, for making your decision to adopt Casper and for giving him such a loving home. We can see that he has an enriching life full of leash adventures with endless love and even more affection. We're grateful to have been a part of connecting Casper with his forever home.