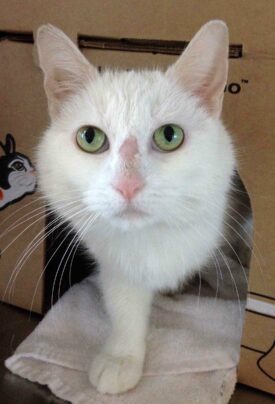 This green-eyed beauty is Briar. This lovely stray had been living a rough outdoor life, as evidenced by her wounds, her fractured teeth and her level of dehydration. At five years old, she had also likely birthed more than one litter of kittens, adding to the pet overpopulation problem in the province.
But Briar got lucky when Animal Control brought her to the BC SPCA North Cariboo Community Animal Centre on March 18, 2015. Here she was treated for her wounds, given some dental work, spayed, vaccinated and tattooed in preparation for her new life.
Our Drive for Lives program took her to the BC SPCA Vancouver Community Animal Centre where she would have a better chance of catching the eye of just the right human match. She found that match on April 16, 2015, and the rest is history, as you will read here:
"A few months into 2015 my Mom and I went to the local BC SPCA animal shelter. I was feeling nervous and a little scared, not quite sure how ready I actually was to have a pet of my own. We looked at a few cats and eventually decided on a white female cat with green eyes named Briar.
The first few weeks with Briar took some adjusting for both of us. Getting to know each other, bonding, playing, feeding and cleaning. I would put music on whenever I went out so that she could feel comfortable. She would hide most of the time.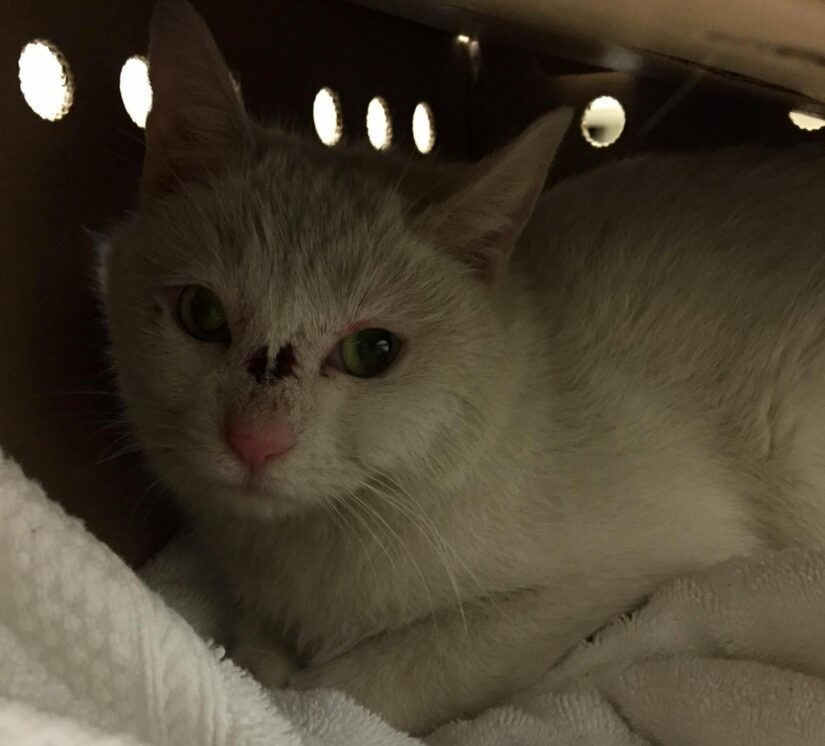 Over the years Briar has grown more open and confident with me. I have read up on all the ways cats show they trust and love you and Briar definitely shows all those signs like blinking at me, saying hi to me when I come home from work or an errand and rolling around on the floor, rubbing herself on my legs, showing her tummy and even talking to me.
One of Briar's favourite activities, aside from the usual eating and sleeping, is playing fetch with a ball. She doesn't usually bring it back but every once in a while she will come into whatever room I am in with a toy in her mouth, asking me to play with her. She also loves shoe strings.
Briar has figured out how to open the sliding closet door and the kitchen cabinets. I would be afraid if she ever figured out how to open the screen door. I don't know what I would do if I ever lost Briar; I enjoy her so much. I love waking up in the morning to her greeting me with head butts to my hands and the pillows.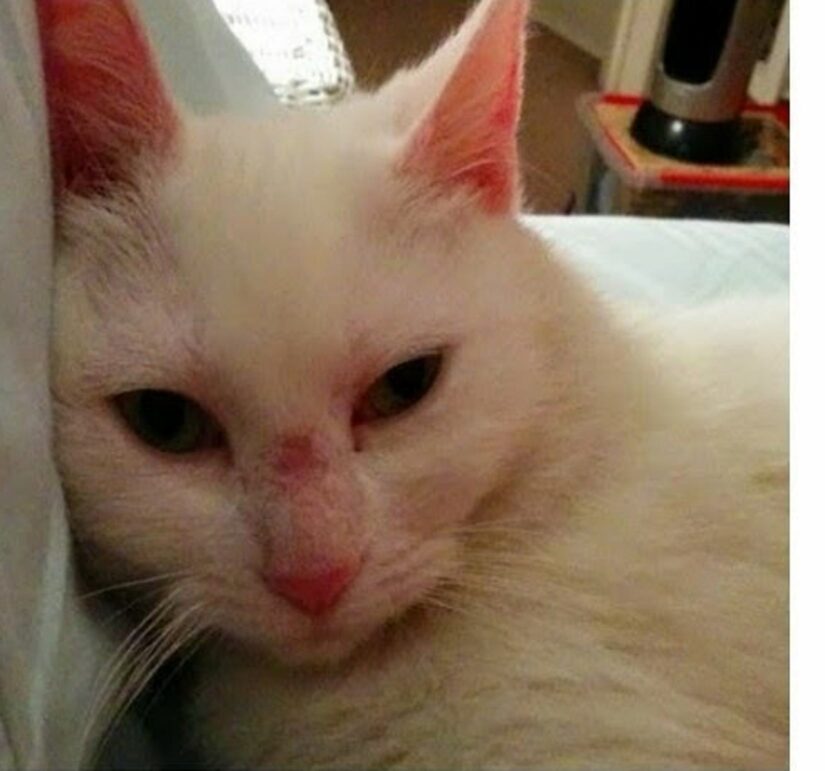 I have always enjoyed reading books, newspapers and magazines. I have also always enjoyed putting jigsaw puzzles together. Having a cat I have realized that this is unacceptable behaviour as I will find her sitting on my puzzle pieces or on whatever I am reading.
Briar is not a fan of loud noises and prefers quiet, therefore whenever I am watching something on a screen she is usually in the other room. Occasionally I have noticed her watching what I am watching. She will always watch cat TV.
Before they cut down a bunch of trees outside our apartment, we both enjoyed watching the birds and squirrels. Briar would chirp away, talking to the birds. One year we even watched some raccoons taking over a crow's nest.
Briar loves being brushed and rubbing her face all over the brush after.
When she feels like being high up in the home she will climb the bookshelf, or if I am near the closet she will use me as a step ladder to get to the top shelf in the closet. Her using me as a ladder really shows how much she trusts me.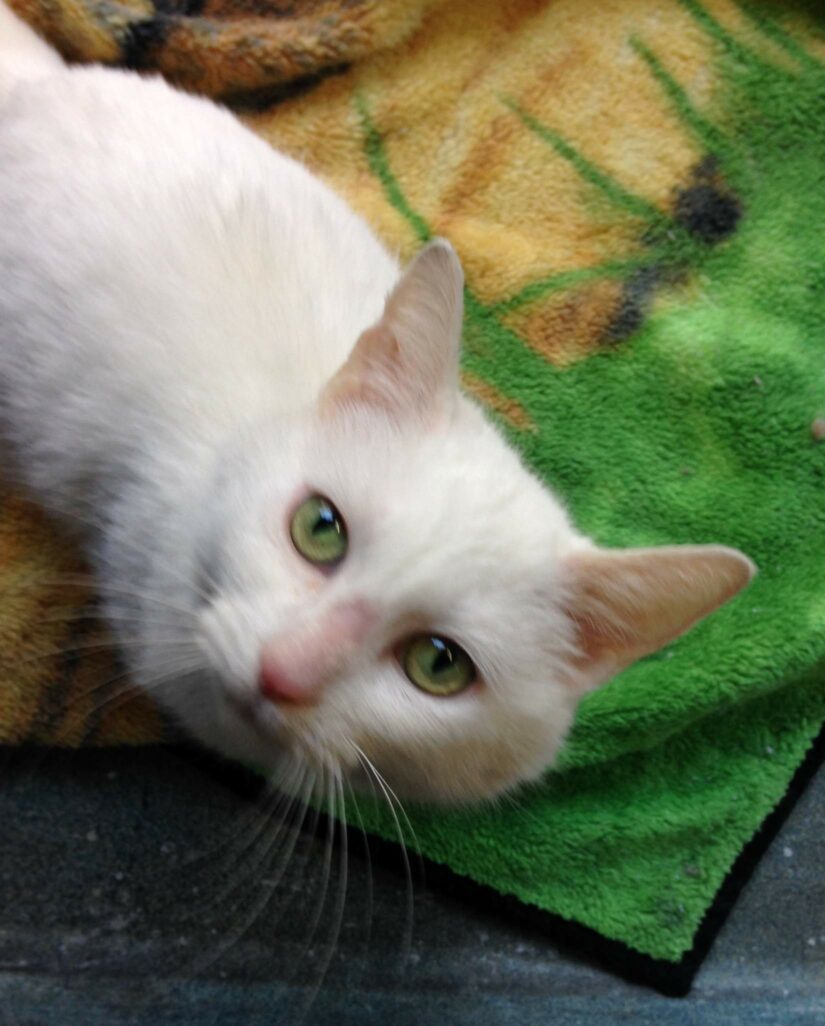 Ask me if she is spoiled? Only with love! She has an overflowing medium plastic bin full of cat toys. I have found her sleeping in it and am pretty sure that in the early morning hours when she has her "Zoomies" she will pull out some of her favourite toys that I was sure were in the box.
A few years ago I decided to make Briar her own Instagram page. She has almost four hundred followers. Every time Briar reaches another hundred followers I donate money to the local animal shelter.
I have had Briar for six years now. She is 11 years old. I am constantly learning more about cats all the time and feel that the bond I have with Briar is always getting stronger!"
"Bond" is the perfect word for what you and Briar are cultivating together. We are so grateful that you and your mom decided to visit us that April in 2015 and chose to adopt dear Briar. May you enjoy many more years of companionship.
Have you adopted an animal from the BC SPCA and want to share your joy with others? Submit your adoption story!