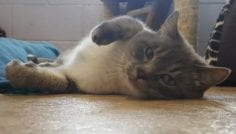 Monty was surrendered to the BC SPCA Vancouver Branch in December 2016. He was a little over two-years-old at the time and immediately we could tell he was a high-spirited cat. He was energetic and loved to play around, though he was taking medication for some of his stay at the shelter. He had a sweet, happy-go-lucky attitude, and it was only a couple days before he found his forever family. They sent us this update to let us know how Monty is doing:
Monty is a very pleasant and gentle cat who loves to curl up on my lap for a cuddle and a snooze. The first few weeks he was my constant companion, never letting me out of his sight, including at feeding times (he wouldn't eat unless I sat beside him). He's now well settled in and has a routine of waking me up in the morning, having breakfast, and then an hour or so of rigorous playtime followed by a catnap—a joy to have under my feet (his only bad habit).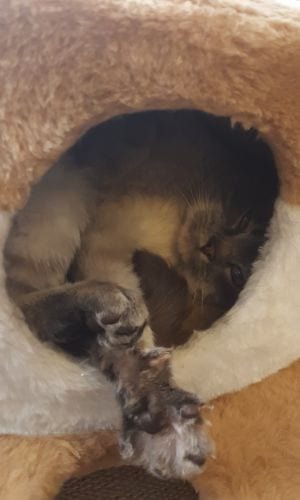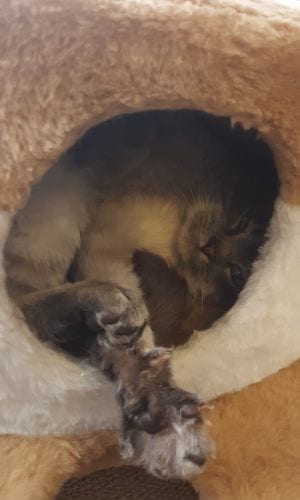 Monty loves to watch Global Morning News (he likes the banner that runs along the bottom of the screen) and black and white movies and most commercials. Monty dislikes having his picture taken. He will sit quietly for a treat or on the scale at the vet's office but bring out the camera or cell phone and he turns his head away or puts his ears back.
This was my first time adopting from the SPCA; my previous pets were purebreds from registered breeders. Adopting was an easy and very pleasant experience. The staff at the Vancouver Branch were fantastic! The paperwork was processed promptly and efficiently, something that you don't see very much of these days.
However, when I took Monty for his vet check, it turned out that Monty has a food allergy, low potassium levels, a herpes infection in both eyes and gingivitis. Thankfully I am in a financial position to support his requirements. I am happy to report that Monty's potassium levels are now in the acceptable range but he will have to have a daily supplement for the rest of his life. He has had his teeth cleaned and gums treated and the eye infection is clearing up nicely.
I am thankful that Monty has come into my life and look forward to a long and happy companionship.
We are so glad to hear that Monty is doing better and that you are in a position to support him. It sounds like he is having a blast in his forever home and getting all the attention he loves and deserves. Thank you so much for choosing adoption, Monty was able to find his loving new guardian because you did.