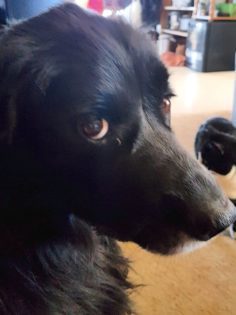 Adopting a pet is a lifelong commitment for our companion. As our pets grow older, there may be some new challenges that come with age.
Laurie adopted Bohdi from the BC SPCA North Peace Branch back in 2010. He was just a puppy at the time—a dark, handsome and very frisky new playmate.
As Bohdi has aged over the years, his health may have changed but his attitude has been very much the same as the puppy Laurie adopted almost a decade ago. Being diagnosed with diabetes, Bohdi has now lost his eyesight, but certainly hasn't lost any of his spirit.
After nine years together, Laurie has shared her story on Bohdi:
I adopted my dog Bohdi in November 2010 when he was about three months old.
There were three black puppies in a kennel. I picked Bohdi because he just sat quietly while watching his siblings play. I was told he was a cocker spaniel mix. Nope. According to DNA testing, he is flat-coated retriever, husky, malamute mix and more.
Bohdi is a wonderful dog. I have taken him to agility classes but he is such a social butterfly he couldn't concentrate on agility. He loves to go hiking by the river and his fortes are bush whacking and swimming.
He is a big, fluffy, laid back, easy going dog and I'm so happy to have him. He knows lots of tricks and is trying to be a lap dog lately.
Bohdi will be nine years old this year. In 2017 he was diagnosed with diabetes. He is almost blind now but I don't treat him much differently than before, he just has to stay on a leash most of the time.
He still acts like a puppy and I love him dearly. We work hard to keep his diabetes under control and give him a good quality of life. I expect to have him until a very old age.
I have two other dogs that treat Bohdi just the same as before he started losing his eyesight—except for Max, who knows Bohdi can't see when food drops on the floor while eating. Max will sit and wait, then snatch whatever food falls! Sometimes he gets away with it, but usually Bohdi knows when Max is sitting there and will warn him.
I think Bohdi and I have bonded even more since his diagnosis. I administer his insulin and do his blood glucose testing, but I believe he knows this makes him feel better.
I can't imagine my home without him.
Thank you, Laurie, for adopting Bohdi all those years ago and making him such a big part of your life. Even though you have made some adjustments over the past couple of years to accommodate his health, there is no doubt that Bohdi is just as comfortable now as he has ever been. It is clear to us your love for Bohdi has only grown over time and your commitment to him has never been stronger.
Have you adopted an animal from the BC SPCA and want to share your joy with others? Submit your adoption story!