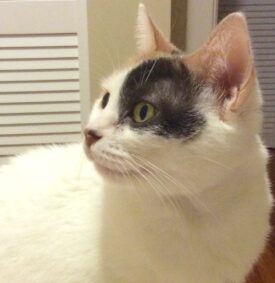 Usually, we meet our animal companions just when we need them most.
Beans, a sweet Calico, was 11 years old when she came into the BC SPCA West Vancouver Branch in May 2020. Sadly, her previous family had to surrender her due to allergies.
However, this meant for a new beginning for Beans. It wasn't long before she met Tracy. As it turns out, Tracy needed Beans as much as Beans needed Tracy.
Several weeks later, Tracy has shared an update on the new life of Beans:
I am lying on my bed with my newly adopted cat, Beans, curled up on my stomach. We're both napping. A noise from outside wakes her. She lifts her head for a moment, then sighs contentedly, puts her head down and goes back to sleep.
Moments like this are now everyday occurrences for me, thanks to the BC SPCA West Vancouver Branch. I met Beans there a few weeks ago.
She is an 11-year-old female who, sadly, had to leave her home when a child with a cat allergy was born into the family. They trusted the BC SPCA to find her a new home—I am the lucky beneficiary.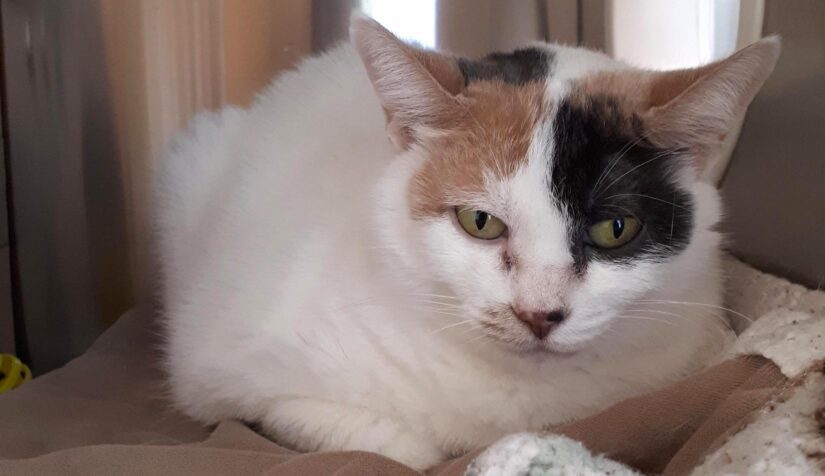 I am a 54-year-old woman undergoing chemotherapy for advanced breast cancer. This treatment has been going on for a few years now. I have been extremely fortunate that the chemo drug is keeping the cancer from spreading.
However, chemo takes its toll. I have been finding it a bit difficult lately to keep motivated to get up each day and make the best of my life. I thought a fur friend would help because then I would have someone to take care of and a reason to keep fighting.
I chose Beans because of her calm disposition and quiet friendliness. She was nervous in the shelter, hiding inside a small enclosure and warily accepting my advances through the entrance hole. She steadfastly refused to come out.
Beans needed to be spayed and have dental surgery before I could finalize the adoption. By the time I took her home, she had been through quite a lot.
I prepared places for Beans to hide in my home. Given her timid behaviour at the shelter, I expected to see very little of her for the first few days.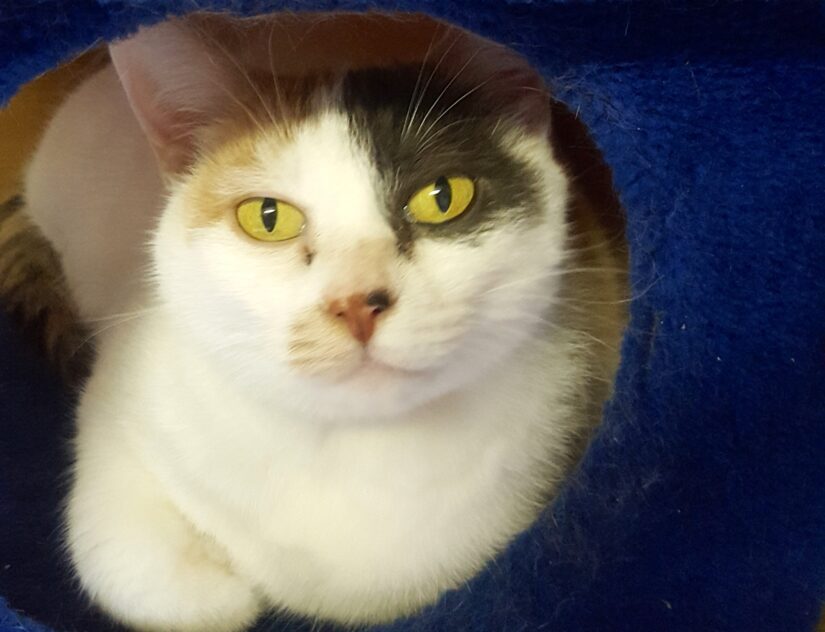 She surprised me. As soon as we arrived home, Beans thoroughly explored her new environment. She then settled on the end of my bed, a little distance away from me.
Occasionally, she would hop down to explore some more. Each time she returned, she would sit a bit closer to me. By the end of that night, Beans was snuggled beside me with her chin resting on my hand.
Since then, Beans has become fond of my partner as well. She considers him to be the treat dispensing man.
Yesterday, we went for our first walk in the park with a leash. The adaptable Beans has taken to this activity with enthusiasm.
Beans and I both needed a caring companion. Now, we are taking care of each other. To her former family, if you get a chance to read this, thank you for bringing up such a sweet cat. Please know that she has found a home for the rest of her life and that she is loved.
We want to give you a big sincere thank you, Tracy, for choosing to adopt Beans. It warms our hearts to know that Beans is helping you, just as much as you are helping her. Thank you for giving sweet Beans an environment she is comfortable in. We're pleased to see she has such a loving home to live out her golden years.
Have you adopted an animal from the BC SPCA and want to share your joy with others? Submit your adoption story!