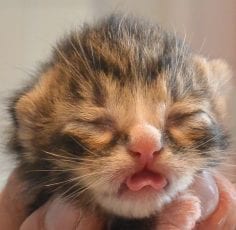 Arrow was one of the younger kittens to arrive at the BC SPCA Williams Lake & District Branch. He was less than a week old when he came under the care of the BC SPCA as a stray on Apr. 3, 2016.
This grey and white tabby kitty needed the utmost care before being put up for adoption. He needed to grow a bit stronger in order for us to feel he was safe enough to settle into a forever home. So for a period of time, he was in foster care so he could receive the kind of really focused attention newborn kittens need.
Arrow was quiet and gentle and would need the same kind of family to match. He needed guardians that would be delicate with him, while being patient in giving him lots of time to warm and open up to them.
Luckily, after being transferred to the BC SPCA West Vancouver Branch, he found that very family on June 12, 2016.
They wrote us this small snapshot as to how he had settled in: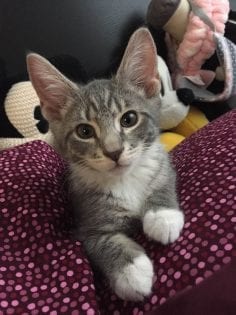 Two weeks ago my husband and I adopted Arrow (now Oreo) from the SPCA West Vancouver branch. He is a short-haired grey tabby kitten. 
Oreo was very shy and timid at first but he has really shone within our family and we love him so much!
He's playful and fun and he would even talk to us. We are so grateful to have Oreo in our life; we couldn't imagine our family without him now.
We are so very glad to hear that Oreo had taken to his new forever home so quickly. We always hope for a smooth transition and it sounds like it went really well. He looks like a happy and healthy kitty, and so comfortable in his new forever home.
Thank you for giving him the love and care he deserves and for choosing adoption as your first option.