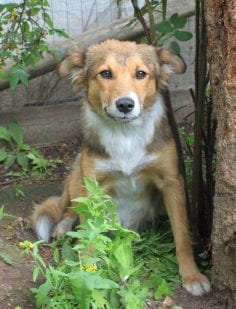 Cassie came under the care of the BC SPCA Williams Lake & District Branch in July 2016 after being surrendered by her previous guardian. She was then looking for a family who could spend quality time with her and keep up with her boundless energy.
At about one-and-a-half years old, Cassie was a happy pup right from the start.
She was very playful and affectionate and loved to socialize with others. She liked to learn and was very curious, so we knew her new forever family would have fun training her and teaching her new things.
In October 2016, Cassie found her new guardians and she went back with them to her new forever home.
They had sent us this update to let us know how she had been doing:
It's been a couple of weeks since we brought home the beautiful girl we decided to call Cassie, and we could not be happier.
Cassie has turned out to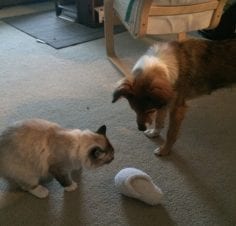 be such a great fit for our house and has settled in so well, almost too well as she's decided she can only nap on a comfy chair or the couch!
Our cat has fully accepted her and we have not had a single issue between the two of them, Cassie has been so great with giving Nutmeg her space and allowing her tail to be an occasional cat toy. 
She's a very happy and playful dog, she's made great friends with Kevin's parents' German Shepherd and loves to go for runs with us or toss her toys to herself.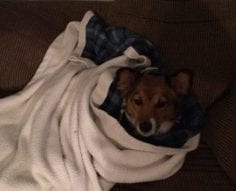 She is also very smart and has very quickly picked up on commands and training, impressing everyone at the dog park with her ability to 'sit' without prompting while waiting for us to throw the ball.
We've still got some work to do on her recall command though, she loves to explore and sprint a little too much.
Her hesitance with men is also improving, Kevin is slowly becoming her go-to cuddle partner.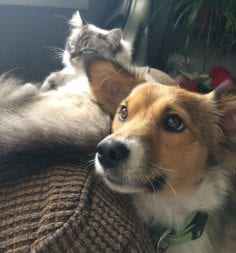 Thank you for giving her a great in-between home and helping her find her forever home with us.
That is so lovely to hear how quickly she got comfortable and how quickly she has picked up on training.
It sounds like she has the perfect environment to play and be active, with lots of family and friends around to keep her company.
We'd like to give you a special thank you for being one of our superstar adopters, having adopted Nutmeg only a couple months before.
We are absolutely ecstatic to hear about your growing family and how happy you've made Cassie and Nutmeg by choosing adoption as your first option.