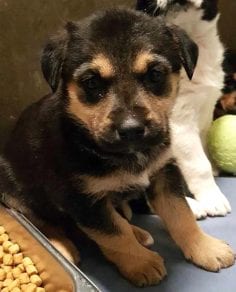 Nose was found abandoned at the gate of the BC SPCA Williams Lake & District Branch shelter with her four sisters on October 14, 2017. At the time, the Rottweiler cross puppies were six weeks old.
After checkups and treatment by the veterinary staff, all five of the puppies went directly into foster care with one of our dedicated foster families, until they were old enough to be spayed. Shortly after, each one of these lovely girls was quickly adopted into a good home.
On November 18, Nose's new family came to take her to her forever home. They even gave her a majestic new name, Nala. Here's an update from Nala's family.
Nose, now named Nala (from the Lion King), has been the greatest thing to
enter my life. She has helped me handle my anxiety by keeping me company and being with me as a loyal companion.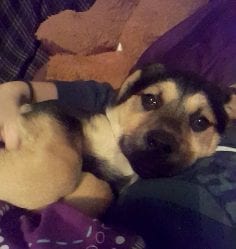 Nala already has a best friend named Sadie and meets many new friends at the dog park every day.
She's adjusting fast and super well to her new home where she gets spoiled with lots and lots of love.

The 14-hour trip to Williams Lake and back was well worth it for this precious girl.
From the looks of things, Nala agrees the trip was well worth it. We have no doubt that from now on she will be living a life fit for a queen!
Thank you for making that long drive to adopt her. May you enjoy many years of comfort and joy together.