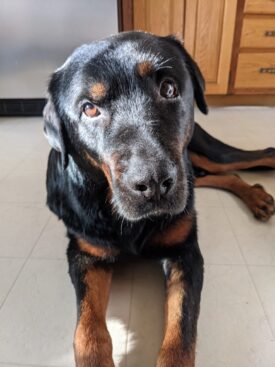 When Kai was brutally attacked and brought into our care in the summer of 2021, we knew it would be a long road to recovery for him. We also knew that, being the absolute gentle giant sweetheart he is, he'd have no trouble finding his retirement home.
Once he was well enough to be adopted, Shani came across Kai's profile on the BC SPCA website. She was instantly smitten—and the rest is history.
Several weeks on from adopting Kai at the BC SPCA Vancouver Community Animal Centre in September 2021, Shani has written to us with an update:
"Kai was thought to be attacked by a cougar. My housemate ended up bringing him home after we saw him and his recovery story on the BC SPCA website.
As soon as Kai arrived home and ate, he fell asleep. Finally, he felt safe. Since then, almost every day he gets a little better.
He wakes up every morning, tail wagging, sometimes almost jumping up on me if I take too long to take him on a walk. If I'm in a group of people, he gets up to greet everyone, receive some pets and then sits down again.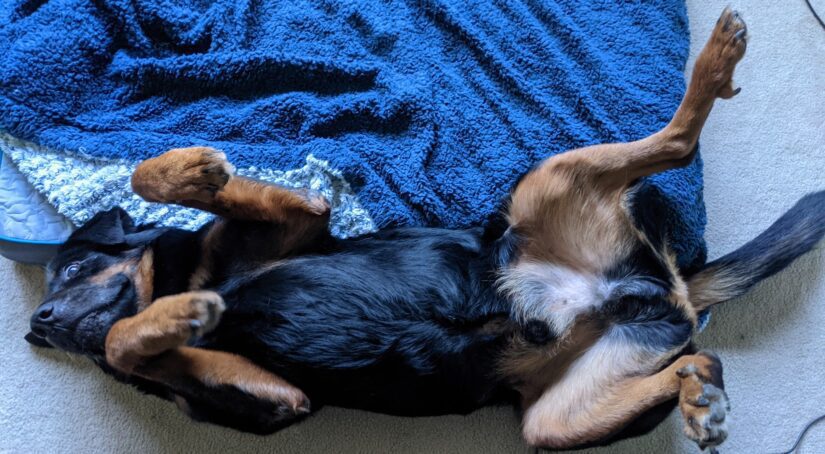 Kai is the best addition to my life. He is my 12-year-old baby boy who everyone mistakes for a puppy.
He adores affection. If I stop petting him he'll nudge me until I start again—or just put his whole head on my hand. He has bonded with my friend's 100-pound Newfie-Doodle mix. They love running around the forest trails together.
Kai is the absolute sweetest, cuddliest and gentlest dog there could be."
Thank you, Shani, for choosing adoption as your first option. You have given Kai a truly safe environment for him to make a full recovery as well as such a loving home for his golden years. We have no doubt that Kai will continue to repay your kindness with all the cuddles you could ever need.
Have you adopted an animal from the BC SPCA and want to share your joy with others? Submit your adoption story!