Lynn (Tom) Thomas Gamble                                      Robert (Bob) Stanley Border
Oct.2, 1937-Nov. 18, 2016                                            June 26, 1928-Oct. 10,2003
Born in St. Catherine's, Ontario                                    Born in Comox, B.C.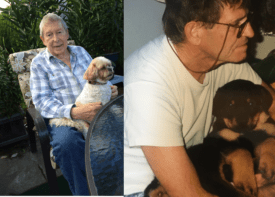 Tom and Bob met after Bob finished serving in the Navy and Tom was working in the printing industry on the mainland. Shortly after Tom decided to retire, they became adventurous partners in the tourist industry. They owned and operated the Cactus Flower Apartments for 10 years, and proved to be excellent hosts, cooks and entertainers, as shown by their returning clients who loved them!
Tom and Bob always had dogs and cats as companions, and even kept a horse at one time. They loved their animals dearly.
Robert passed a while ago, but Tom lovingly continued to carry out his wishes. Both were very kind and caring people.
The BC SPCA is so very grateful to Tom and Bob for their kind and thoughtful gift to support future generations of animals in need.