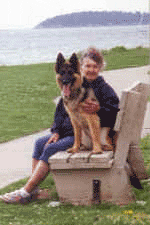 Margaret "Peggy" Morley passed away July 19th, 2000. Peggy was born in Surrey, England. She worked as a Nanny in wartime England and after immigrating to Canada, worked for many years in the Student Health Services at U.B.C. until her retirement.
Peggy lived a full life, primarily one of service to others. She had a great love for the outdoors, sports, gardening and animals "all creatures great and small". She volunteered regularly at the BC SPCA as a dog walker.
She made many personal sacrifices in order to leave the bulk of her estate to the BC SPCA. Peggy's bequest helped the Society to: purchase dog beds for all the dogs in our shelters; renovate two emergency vehicles and the dog kennels at the Surrey shelter; support the Animal Welfare Program at U.B.C., the BC SPCA Animal Hospital, SNAP program, and Charlie's Foodbank. The bequest also helped other projects in the Lower Mainland.