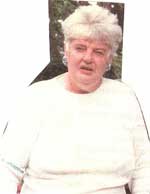 Nellie passed away in February 2009 at the age of 80 years.
In spite of being afflicted with schizophrenia for much of her adult life, Nellie was active politically, an accomplished writer, poet, artist and activist and known for her infectious sense of humour. She was much influenced by her grandmother Nellie L. McClung, the well-known Canadian suffragette, politician and writer, and was very proud of this heritage.
One of her passions was always the welfare of animals and she supported various animals caused during her lifetime, and did not forget the animals in her final plans.