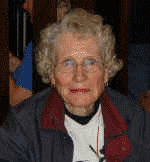 Marjorie was born in Calgary and moved to Victoria where she met Jack. Marjorie graduated from Royal Jubilee Hospital School of Nursing in 1948. She later returned to UVic as a mature student and successfully completed her BSN.
Marjorie lived a full and active life. Years ago she was a regular swimmer at the UVic pool amassing a collection of "I swam to…" T-shirts. Many residents of South Oak Bay knew her by sight through her daily walking of her "grand dog". Everything Marjorie took on, she pursued with passion including: gardening, bird watching, computer classes, photography, opera and symphony.
Marjorie traveled extensively including countries from the Galapagos Islands to Kenya and throughout Europe. Her combined passion for opera and travel took her to many of the great opera houses around the world. Marjorie was an excellent dinner companion, her experiences and travels providing material for interesting stories always told with humour and wit – traits that she retained to her final days. She was predeceased by her husband Jack and survived by sons Mark and Ian.
After a courageous battle with cancer Marjorie died in November 2008. Her will provided for a legacy to the BC SPCA.