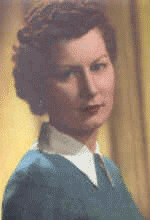 April 25, 1917 – November 20, 2006
Kathleen passed away November 20, 2006 at the age of 89 in Maple Ridge. She was predeceased by her loving husband George in 1975.
Born in Vancouver, Kathleen attended St. Mary's Academy in Oregon. She returned to Vancouver to settle, and operated a successful flower business for many years. She worked hard to provide the freshest flowers and the best of service. In her retirement from the floral business, she worked as a nanny. Kathleen moved to Maple Ridge in 1988.
Kathleen was one of those people with a deep love and respect for animals. She was known to search out abandoned animals and make sure they were taken care of. She was one to take in yet another stray cat that needed a home. Kathleen had many pets throughout her life, including several Pekingese dogs. Her pets were her family, and she took admirable care of them. Even in her senior years, legally blind and primarily confined to a wheel chair, she would find a way to accompany her pets to see veterinary specialists as needed.
As her final gift to animals, Kathleen left a very generous bequest plus the residue of her estate to the BC SPCA. Her gift is to be used for the benefit of animals at the Maple Ridge shelter. May we remember Kathleen for her kindness to animals and her generosity. She will be missed by her loving friends.