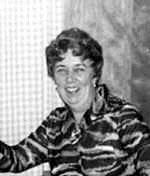 On January 29, 2006, the Penticton community lost a very special woman, and a fierce champion for local animals, in June Carrington Richardson.
June spent her childhood traveling the world with her family since her father was an enlisted man who was stationed in many far off places. In later years, she worked at the Leir Sawmill and the Royal Bank, but it was at an insurance office that she met her future husband, Lawrence Crump. She and Lawrence finally settled in Comox until Lawrence's death in 1978.
Following this, June returned to Penticton, where she lived with her border collies Melody and Danny Boy, and with her cats Whisper, Benny, and Billy. Cats seemed to seek her out, and her home became a haven for strays. On at least two occasions, feral cats chose her yard to raise their kittens.
June was generous in her time and support of local animal charities, including the South Okanagan branch of the BC SPCA. Her generosity extended even to her final plans, with her bequest to the BC SPCA, as well as other charities in the Penticton area.