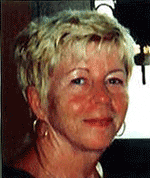 Janet Roberta Ferguson passed away suddenly on August 19, 2008 at the early age of 60.
As a recent resident of Steveston, British Columbia, Janet loved the fun and exciting times living in a friendly portside town. Janet spent a long and successful career with Air Canada. Her job took her from Ottawa to Houston, Texas and ultimately to Vancouver where she was Air Canada's Director of Customer Service – Operations, at the Vancouver International Airport.
Animals had always been part of Janet's life. Be it her beloved dog Bobo as a child, or later in life, nurturing her numerous character-filled cats. They travelled as often as Janet and spent peaceful sunny summers at Lac Girard in Quebec's Wakefield cottage country.
Following her retirement, Janet's passion for animals continued. Conceived during one particular cottage summer, she opened "Purple Paws" in 2002 to provide animal care services for absent pet guardians in the lower mainland area of British Columbia. Janet's friends and family members fondly recall stories about the antics and personalities of her four-legged "Clients".
Through Janet's generosity and lifelong love of animals, a significant gift was bequeathed to the BC SPCA to be used for the benefit of the animals at the Richmond Animal Shelter.