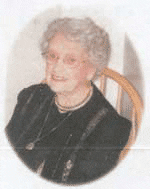 Evelyn Roe of Summerland passed away peacefully on February 7, 2006, at the age of 95 years.
Lovingly remembered and sadly missed by: Her daughter: Valerie (Bob) Davidson of Calgary, AB; six grandchildren and 11 great-grandchildren; one sister: Betty (Ted) Slater of Ireland and numerous nieces and nephews in England and Ireland.
Sadly predeceased by: Her husband, Joseph and daughter Audrey Freeman.
Born in Dublin Ireland, in July 1910, she immigrated to Canada, arriving in Toronto in 1952 with husband Joe and two daughters, moved to Edmonton in 1955 and retired to Summerland in 1973 where she enjoyed her remaining years.