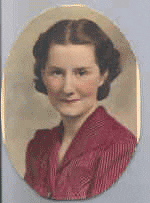 Eileen Kelk was born in Birmingham, England and emigrated, with her parents, to Canada in 1920.
Eileen was an only child. She loved all animals and always cared for many pets. Her parents also loved animals. They had a beautiful aviary and a goldfish pond in their back yard. Eileen had a white rat, rabbits and a dog named Tommy.
When Eileen married her husband Gordon Kelk, they spent as much time as possible with family on the Sunshine Coast. Then, when Gordon retired, they moved permanently to Beach Avenue in Roberts Creek.
Cats dominated their household, although no stray animal was ever turned away. Many cats were sick or injured when they arrived and needed to be nursed back to health. Both Eileen and Gordon loved cats, they were their children. The walls in their house were adorned with pictures, and they always had a new cat story to relate.
After Gordon's death, Eileen lived alone with her beloved cat, Albert, but unfortunately in 1998, she was forced to move to a care centre, where she lived until her death in April 2003. She missed her animals, and loved to be visited by family pets. She always inquired about their well-being, and laughed about their escapades and antics. She would say "oh the dear little thing". Eileen kept cookies in her drawer for unexpected animal visitors.
Eileen believed passionately in helping all living creatures who cannot help themselves. She demonstrated this belief by leaving a generous legacy to the Sunshine Coast Branch of the BC SPCA. She wanted this bequest to be used specifically for the animals of the Sunshine Coast, the animals she adored in the place she love.