Growing up, pets were always a big part of the Hutchinson family. From the time Dorothy and Ralph (better known as Raif to his friends) were married in 1957, until the death of Dorothy at age 91 in March 2014, there was never a time that a cat or dog was absent from their lives.
Dorothy was born in Winnipeg and moved to Vancouver where she met Ralph on a BCMC hiking expedition. Ralph was born in Tanzania, educated in England and – always the adventurer – immigrated to Canada. In 1960, they made Nanaimo their home where Ralph practiced law and they both became actively involved in the community, especially the local BC SPCA. Dorothy and Ralph worked tirelessly on the local board of the BC SPCA campaigning for animal welfare, fund-raising and helping to organize numerous events to increase public awareness.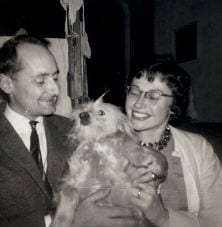 During their many visits to the shelter, some animals stood out. Usually considered the least adoptable, they were welcomed as a member of the Hutchinson family including a dog requiring hip surgery, another that was scared and abused, and the most recent, a three-legged one-eyed toothless cat who held a very special place in Dorothy's heart, especially after Ralph's passing.
Each animal that came into their lives had their own character, idiosyncrasies, and unique contribution to many humorous and happy family moments. As well as their commitment to supporting animal welfare, Dorothy and Ralph had a deep respect for nature. They took great pleasure walking the local trails, as well as skiing and gardening – the highlight of these activities often being a glimpse of a fawn, a marmot, or a rhododendron in bloom.
Dorothy and Ralph are survived by a son and daughter, and four grandchildren, all of whom have shared the joy of having a pet in their lives.
We are so thankful for the Huchinson's for their thoughtful legacy and devotion to the animals. Their vision and passion for animal welfare lives on through the love they shared with their family, and by the legacy gift they left in their will to the Nanaimo Branch of the BC SPCA. Their kind and generous gift supports a cause that was important in their life and will go a long way in helping the animals of Nanaimo, BC.