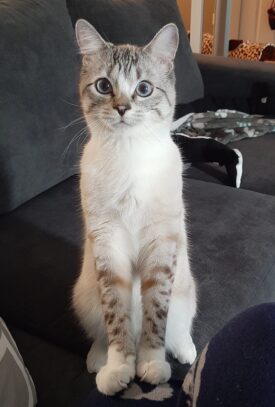 When Zuri was found as a stray and brought in to the BC SPCA Maple Ridge Community Animal Centre in July 2020, we knew it wouldn't be long before his guardian-to-be came along and fell in love with him.
Full of purrsonality and intelligence, Zuri was no doubt a catch. Only ten days later, once he was eight weeks old, Miranda met him and simply couldn't resist.
It has been almost a year full of snuggles and fun with Zuri and it sounds like he couldn't be happier in his home.
Now, Miranda has shared an update on her feline pal:
"Zuri is a one-of-a-kind cat. He opened up immediately when he first came home. He was only two months old and tried to fit into the tiniest spaces of our bedroom.
To this day, Zuri still loves to explore. He enjoys a lot of cuddling and loves to chat. He learned sit and high five within few days at five months old. Being a lynx-point Siamese, I'm not surprised.
At the vet, Zuri is always the talk of the hour because of his captivating looks. His leopard legs are mesmerizing. He has sure grown into a fine, handsome boy.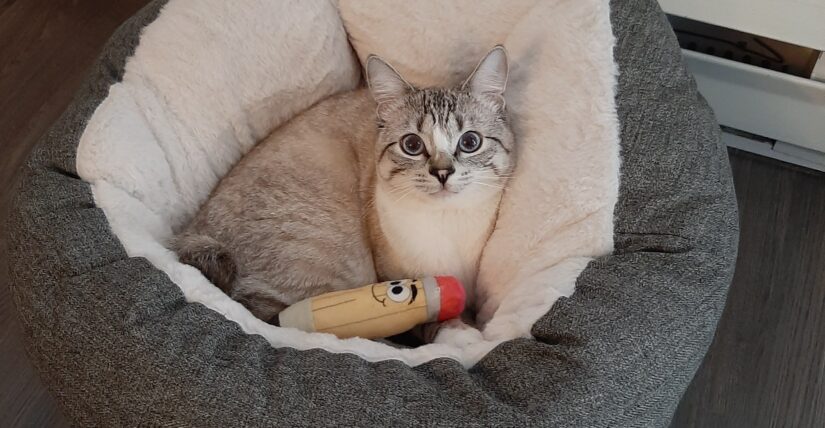 Out of all the cats I have had, Zuri has been an absolute blessing. His constant greetings in the morning, his trilling sounds, our play times—the list goes on—has made us a strong bonded family.
Zuri is officially a year old now. Here's to you, Zuri, we love you, and to the BC SPCA for taking for him in and caring for him when he was found struggling out there. Thank you."
Thank you, Miranda, for choosing adoption as your first option. Thank you for committing to taking the best possible care of Zuri and for giving him everything he needs to grow and thrive. We wish you and this very handsome boy many more happy years to come.
Have you adopted an animal from the BC SPCA and want to share your joy with others? Submit your adoption story!