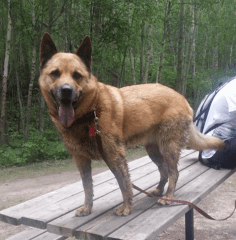 In the summer of 2012, we found Zara without an owner in the Westbank area of Kelowna by the Okanagan Lake. We brought her to the BC SPCA Kelowna Branch to find her a new, permanent and loving home.
It didn't take her long to melt the hearts of Marnie and her husband, who have now written to us almost six years later to give us their update:
My husband went to the BC SPCA Kelowna Branch and instantly fell in love with Zara. She was so gentle and loving. She was a stray, so the BC SPCA staff knew nothing about her past.
She was underweight and was shedding her fur like crazy. It has now been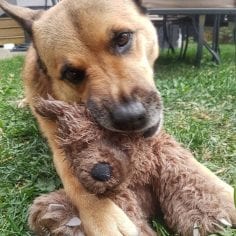 almost six years since we adopted her and she is the most important and precious girl in our lives. Our whole world revolves around her and her happiness, and we wouldn't have it any other way.
When we first brought Zara home, we came to the conclusion that she had been abused before the BC SPCA found her. She would cower if we just said her name.
Zara warmed up to my husband instantly, but it took her a few months to warm up to me. It was sad to see that she did not have an instant connection with me like she did with my husband, but because of this, we thought a woman might have abused her in the past.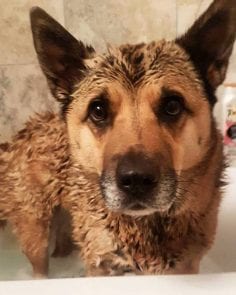 At first, Zara was terrified of the water, so her first few encounters with the lake were interesting! She slowly warmed up to swimming, and now she loves it. Swimming is her favourite activity in the summer, but a stick (or a log) has to be involved as well.
Zara can still be quite sensitive at times but she has grown into a very lovely dog who loves to cuddle and be silly, but she also has her own personality. She is now almost seven years old, but she'll always be our baby.
Thank you for choosing to adopt Zara into your family, and for showing her that the world doesn't have to be a scary place.