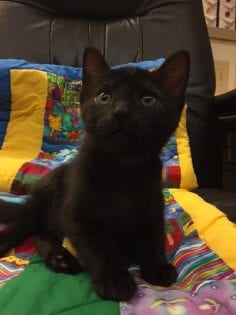 Wesley was still a kitten when he came under the care of the BC SPCA Vancouver Branch in May 2017. The tiny little cutie won over all our hearts during the two months he was there.
We discovered quickly that he loved his naps, usually purring softly while someone scratched behind his ears and gave him gentle belly rubs.
Although when he woke up, he had the energy to play games and jump around. He loved to be silly as much as he liked to cuddle.
Wesley was looking for a forever family who would be willing to take their time introducing him to new people and other kitties. We knew he would love to be raised by guardians with patience and lots of quality time to spend with him.
He found his forever home in July 2017, and his guardians wrote us this update:
Despite his dark fur, Wesley has been a bright ray of sunshine in our lives.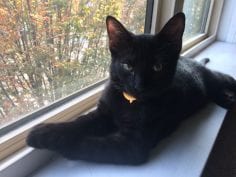 After several weeks of a very slow introduction period, he is getting along swimmingly with our resident eight-year-old cat, Grubber. They enjoy playing together in the mornings, and then sleeping away the hot summer days. I'm sure their relationship will get stronger with time.
We say that Wesley is a very "busy" cuddler. Unless he's dead asleep, he likes to cuddle on a lap, on his back, purring furiously and wiggling about to make sure there's a hand petting him at all times.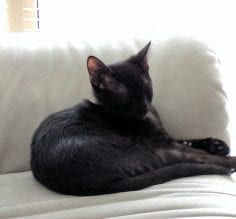 His favourite games are playing fetch and diving under pillows with a toy mouse in his mouth.
That's so awesome to hear how well you've gotten to know Wesley and how you've created an environment he could feel comfortable in.
We are glad to hear he has settled in so quickly and that he has found an older sibling in Grubber.
Thank you for giving Wesley the love and care he deserves by making adoption your first option.