In November 2016, Walter came to the BC SPCA Prince Rupert Branch in slightly rough shape.
Coming in as a stray, he had some scabs along his neck, his claws were growing into his pads, and he would need to have some dental work done.
After making sure that his health was in check, Walter was ready to find his forever home.
This little cutie had long whiskers, soft fur, and (most notably) the grouchiest of facial expressions that got him the name Walter—named after Walter Matthau who starred in the movie "Grumpy Old Men".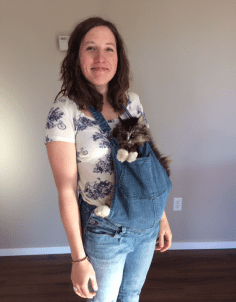 Contradictory to some of the surly looks he gave us, he was super friendly and affectionate. He was curious and liked to explore, and was looking for a forever guardian to give him the love and care he deserved.
In March 2017, he found his forever home. His guardian wrote us this update:
Upon reading a Facebook post that the Branch was in need of first aid supplies for a cat who recently had major surgery (Arnie), I went down to the Prince Rupert location with no other intent than to drop off old bandages and dressings I had.
After meeting the friendly staff, I said I may be interested in fostering a kitten for the short term. As we walked through the staff area to where the kittens were kept, I met Walter.
With the grumpiest face and loudest purr I fell in love instantly. He was short a few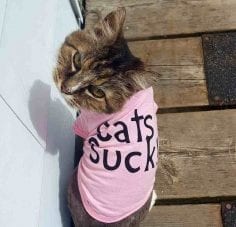 teeth, missing a few chunks of ear, and seemed to perpetually be frowning but we matched instantly.
Walter soon became a great addition to our family, settling in immediately and I can't imagine life without him.
That is fantastic to hear how easily Walter settled into his new forever home. That's really sweet how you both met and bonded right away at the shelter.
We couldn't be more ecstatic to hear that he is safe, happy, and healthy with his forever family. Thank you so much for giving him his second chance by choosing adoption.