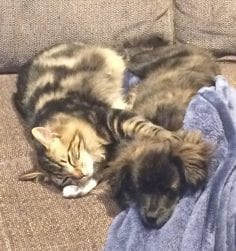 Stereotypes often show cats and dogs having an instinctual dislike for each other. But sometimes, the norm is proven wrong, and that was the case for a BC SPCA volunteer who adopted a cat and a dog from the BC SPCA Prince Rupert Branch in the fall and winter of 2016.
Booboo came into BC SPCA care as a stray kitten, in need of a loving home, while Penny was rescued in the fall of 2016.
Their new guardians sent us this update:
I started volunteering at the SPCA in July 2016. When they brought in a stray cat that had just been fixed in late September, I fell in love with him.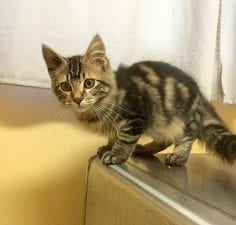 I told my husband to come meet him and he agreed that the cat should come home with us and Booboo became our fur-baby.
Two weeks later I was asked to hang out with some puppies who were rescued. I fell in love with one of them and brought her home to foster and we ended up adopting Penny, too.

Penny and Booboo are best friends. Booboo even goes for walks with us. It might seem strange for a cat and dog to be best buds, but they wouldn't have it any other way!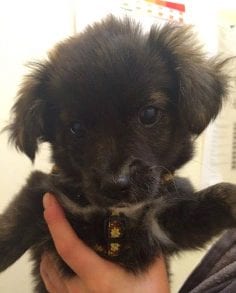 I retired last year and they are great company for me. I am currently fostering kittens too young to be at the BC SPCA and Penny has been a great 'mom' to them.
We love that Penny and Booboo are such pals and such great additions to your family!
Thank you for giving them a second chance and a forever home by making adoption your first option.