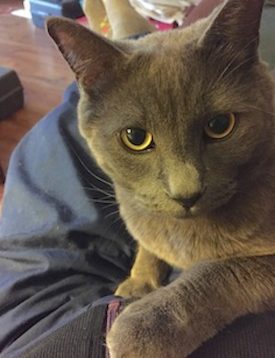 For some cats, when they are found as strays it can take quite a while to adjust to their new lives in a loving home.
Vinny, however, settled right in.
From the start, Vinny was friendly and outgoing. Most importantly for Tammy, he wasn't opposed to being doted on. Once Tammy met and adopted Vinny from the BC SPCA Abbotsford Community Animal Centre in January 2016, they soon became inseparable.
It has been five years since Vinny found his forever home, met his adopted feline sister and found true love in Tammy.
We have now received an update from Tammy to share:
When I adopted Vinny in 2016, he was just four months old. His original name was Phipps.
When I first saw him, he reminded me of someone I knew. I decided to change his name, so that's when he became Vinny. He still responds to Phipps till this day but fortunately he also comes to his new name.
Despite being a street cat, Vinny was not at all feral. I remember meeting him at the shelter and thinking, what a happy kitten! I fell in love instantly.
Vinny was lovely, affectionate and handsome. He was just the type of kitten I wanted to share my life with and have as a companion for my other cat, Maya.
I was so happy when I was approved to adopt Vinny and he came home with me. He was easy to raise and I've had the pleasure of his company for five years now.
Maya and Vinny don't always get along but they do play together a lot. Sometimes Vinny can be aggressive with Maya and we're working on that. Everyone who meets Vinny remarks how friendly, loving and sweet he is. He certainly gives love to everyone and everything he comes in contact with.
I'm so happy to share Vinny's life with the BC SPCA and let everyone know that adoption is the way to go.
Thank you so much, BC SPCA, and keep up the awesome work you do in our communities.
Thank you, Tammy, for choosing adoption as your first option. We loved your story of just how well Vinny has settled into his life with you and Maya, who sounds like a true sister to him. He really is a special boy and is lucky to have such a caring guardian. Thank you for spreading positivity and inspiring adopters everywhere.
Have you adopted an animal from the BC SPCA and want to share your joy with others? Submit your adoption story!