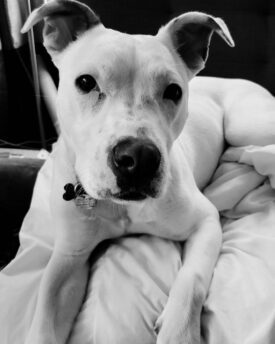 While so many of us have spent more time in our homes over the past couple years, we have felt the tug to open our home to an animal in need.
Julie and her family had been researching and looking through many rescue organizations to adopt a canine companion. Finally, they found Twiglet at the BC SPCA Vancouver Community Animal Centre in March 2022.
Once their 11-year-old daughter set her sights on Twiglet, that was it. They were immediately best friends.
It has now been a month since Julie and her family adopted Twiglet, and they have shared an update with us:
"We had been looking for a dog during the pandemic. Our daughter has had an array of fish and hamsters, but at 11 years old she is now ready for more responsibility.
We looked at local adoption websites and organizations that rehome dogs.
We were scheduled to meet a different dog, but fortunately his owners turned up to claim him. So, we got to meet precious Twiglet instead. She was found as a stray and had been in the shelter for two months.
Twiglet can be a 'baby shark' at times and she is always full of energy! She just started at pup school for obedience training. She loves long walks by the ocean, cuddles, kisses and playing with her squeaky toys.
We are so excited to welcome Twiglet into our family. Giving a rescue dog a new beginning is a wonderful thing."
Thank you to you and your family, Julie, for choosing adoption as your first option. We are thrilled to hear how well Twiglet is settling into her forever home. We have no doubt that your daughter will have her best friend for life in Twiglet. Thank you for committing to giving Twiglet a chance at living the life she deserves.
Have you adopted an animal from the BC SPCA and want to share your joy with others? Submit your adoption story!
Resources for dog guardians
How do I welcome a new dog home?
Tips for 5 common dog training challenges