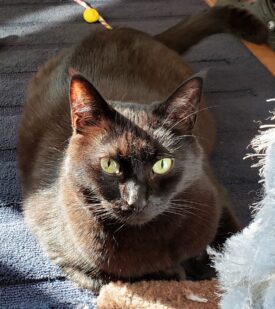 When we adopt a new feline friend, our relationship with them doesn't always turn out according to plan. Most times, it's even better.
When Nadine was ready to share her home, she took a trip to the BC SPCA Vancouver Community Animal Centre in August 2010 to find her new pal. There she found a connection with Mex, a handsome black cat who showed his love in some unexpected ways.
Nadine soon learned to adapt to Mex's quirks and for that she was rewarded tenfold. Over their years together, Nadine and Mex formed an unbreakable bond.
Now, Nadine has written to us to share a loving tribute for Mex:
"When I decided to adopt my first cat at the BC SPCA Vancouver Community Animal Centre, I was completely overwhelmed by the experience. I told the staff I would come back in the following week.
In the meantime, I chose three cats online. They were all around two or three years old. I really hoped one of them would give me a sign. Luckily, they were all in the same room when I went back to the shelter.
The first two cats seemed indifferent towards me. Then there was Mex. He let me pet him, but it was his eyes that won me over. Something caught his attention and his eyes lit up like a kid at a playground who wanted to be invited along.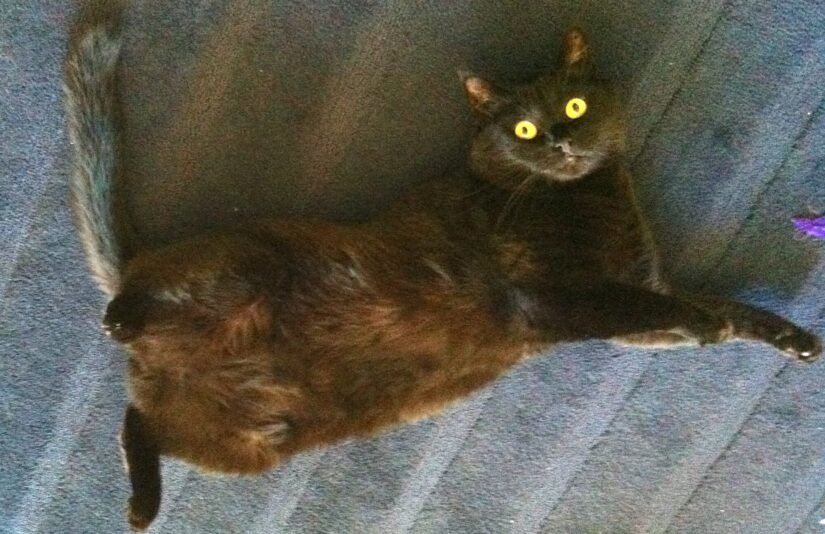 The first night was (difficult). Mex toggled between jumping on the bed, issuing love bites and racing to the front door, meowing. I would get out of bed, tell him it's late, then he'd follow me back and jump on the bed and nip. This went on the whole night.
The next morning, I sat on my couch, sleep deprived, wondering what I had done. Then, Mex hopped up on the couch, issued a sound and slept right next me. It was so sweet!
Mex was a friendly and good natured being. He was intelligent and playful.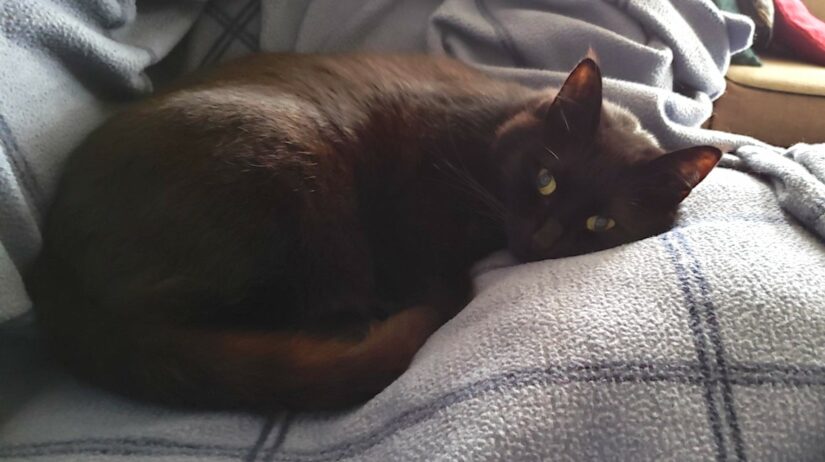 It took me a long time to learn how to hold him. As time passed, we adjusted to each other. He didn't care for car rides, but he enjoyed visiting other people's homes. He was always a favourite because he was very interactive and attentive.
Mex passed away last month. I had always intended to share my story. As painful as it is now, I enjoyed my 11 years, eight months and one week with him. I will adopt again because it was such a joy to have Mex as a part of my life."
Thank you, Nadine, for choosing adoption as your first option and sharing your story. We are sorry to hear of Mex's recent passing and wish to give you our heartfelt sympathy. Thank you for giving Mex such a loving and wonderful life. It sounds like he had a big personality and a lot of passion for his human. We hope you find comfort in the memories you shared with him.
Have you adopted an animal from the BC SPCA and want to share your joy with others? Submit your adoption story!
Resources for cat guardians
How do I know if my cat loves me?