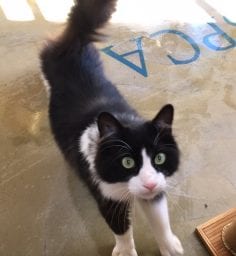 In July 2017, a handsome five-year old cat named Prince came into our care at the BC SPCA Alberni-Clayoquot Branch. Though friendly and affectionate, his previous owners decided to surrender him due to his uncanny ability to escape their home for the great outdoors.
After spending about one month in Port Alberni, staff decided to transfer him to the BC SPCA Parksville-Qualicum Beach & District Branch, where they hoped he would be adopted more quickly. They were right. Soon after being transferred, Prince found his forever home and a brand new name: "Tutsey".
Here is what his forever family had to say about him:
This kitty was a match made in heaven! He is so accommodating and so sweet, how anyone could give him up is hard for me to understand. We are snowbirds and lost our kitty almost two years ago. It has taken us this long to adopt another pet because we wanted to be sure we could give the right kitty the perfect home. We call him "Tutsey" and he loves his new forever home. We love him very much and are so thankful we found each other.
We have taken a few car rides with him to make sure he will be okay for traveling and have found that he does very well. He also walks well on his leash and harness, which is so important as he does like to go outside so he can get his fresh air. Thank you so much!
Thank you for sharing your story and making adoption your first option. It sounds like Tutsey is in his new home for the long haul and that you have found the perfect way for this outward-bound kitty to explore safely. Wishing you many years of happiness and companionship!