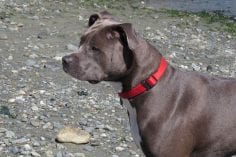 Diego was only a couple of years old when he came under the care of the BC SPCA Victoria Branch in April 2017. Right away, we discovered what a big and passionate heart he had.
Though Diego was wary of strangers, he bonded quickly and deeply with those who had the patience to let him get to know them. He was very loyal to his family and friends, and it was easy to put him in a good mood with a snack or two.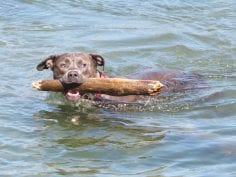 He liked to play with other dogs so having siblings in his new forever home was a possibility.
Diego was looking for a guardian who could take the time and care to give him all the love that he deserved, as well as allow him to maintain his active lifestyle. He was transferred to the BC SPCA Parksville-Qualicum Beach & District Branch in June 2017, where he found his new forever home. His guardian sent us this update:
I have had Diego for a couple of months now.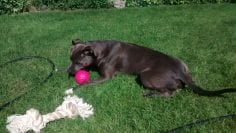 He is a smart, loving, and loyal companion…He loves his walks, hikes, the beach and the lake.
He has been a great companion, I have never been so active. He goes everywhere with me, we are working on his separation anxiety…I don't know who is worse, me or him….lol!
We are so happy to hear that Diego is getting plenty of healthy exercise that he needs and enjoys so much. It's also great that you both encourage each other to lead an active lifestyle and have so much fun while doing it. We couldn't have imagined a better fit. Thank you for giving Diego the love and life he deserves by making adoption your first choice.