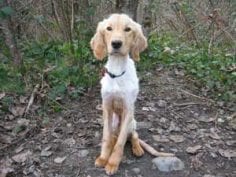 Trooper arrived at the Maple Ridge branch of the BC SPCA on February 28, 2010. He weighed only a fraction of what he should and the extreme neglect he suffered shocked staff, volunteers and animal lovers across the province.
Shelter staff worked to improve on his condition so that we could find a very special home for Trooper.  After his adoption to his foster family, Brad & Athena Hayward in Pitt Meadows, Trooper's health and character flourished to transform him into the handsome, friendly character that he is today.
He recently celebrated his second birthday with his adoptive family, the Haywards, and with his new best friend Arthur, a Bichon Frise/Yorkie cross.
Congratulations to Trooper and a huge thank you to the Haywards for helping Trooper to become the happy and healthy dog he was always meant to be.