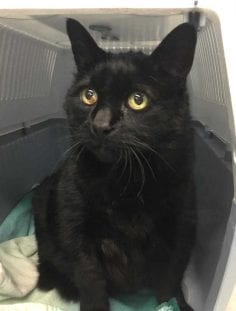 On April 4, 17-year-old Tiny was taken by her owner to a Nanaimo veterinary clinic to be euthanized because she had become too much responsibility. The clinic declined to euthanize this healthy senior and instead brought her to the BC SPCA Nanaimo & District Branch to give her a chance at adoption.
Not long after, a loving family decided to adopt her and Tiny started her semi-retirement in a new home on April 27, 2018, and is now fulfilling the duties of an "office assistant" and "stress-reducing purring machine."
Here's an update from Tiny's new guardian:
A few weeks ago, on visiting the BC SPCA website, we spotted a 17-year-old cat named Tiny. There was something in that photo of Tiny that said she deserved to be in her final home, a space she can relax at her age…so off we went to adopt Tiny.
For the first few days Tiny would call our guest room her home, but she preferred to hide in what we called her "cave," a cat house she felt comfortable in.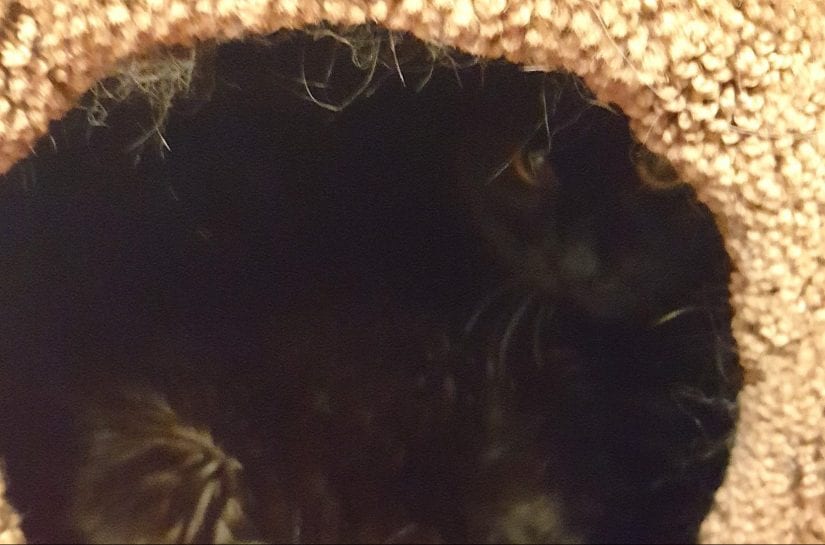 I figured it would take weeks for her to come out and explore. Boy, was I wrong.
I decided to spend my evenings hanging out with her in the guest room on the bed while I worked on my laptop on a project. In just a few days she decided to help me with my work by coming out of her cave and relaxing beside me, constantly purring and showing her affection, which she shares via a high-pitched purr mixed with her constant purring, which is unique to her.
Even as I write this she is climbing on me and trying to get as close as she can making some nights difficult to get work done, but it's great just to hang with her.
Tiny no longer goes in her cave but relaxes on her bed and roams, though she is still getting used to our younger cat.
Tiny has become the quietest cat with the biggest heart, as she just constantly purrs when she lays beside us. She loves to be brushed and found her fondness for a heated blanket. She has made a great work companion when I am at home.
Tiny is a gem, and a reminder not to overlook a cat because of her age. They all deserve a great home.
Thank you for choosing adoption as your first option and for realizing that senior pets still have a lot of life and love to give their human companions. We're so glad you've given Tiny a chance to live out her senior years surrounded by love and comfort.