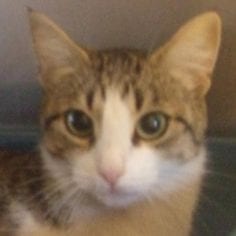 Tiny was discovered wandering as a stray and rescued by the BC SPCA Kelowna Branch when she was a young kitten. After a full health check up and a waiting period to see if Tiny would be claimed by a previous guardian, Tiny was ready to be placed for adoption and to find her new forever home.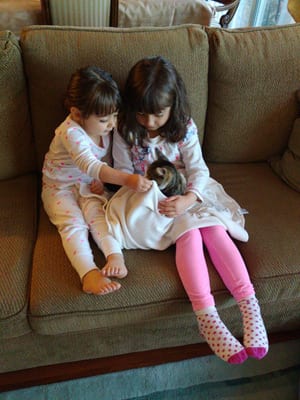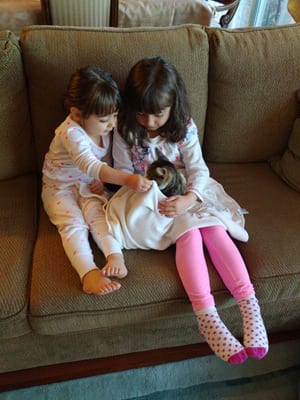 This past Thanksgiving, Tiny hit the jackpot and was adopted by her new family. Tiny is now known as Maci and has had three months to settle in. Maci's family have sent us this update to let us know she's doing great:
We wanted to give our little girls a way to understand thankfulness first hand this Thanksgiving. As life long pet owners, my husband and I decided to take the girls to the BC SPCA to adopt our first pet into our young family. We explained how these kitties would be longing for a forever home with a lot of love, and that we would try our best to find one that fit in with our little crew.
We visited with a few of the cats who were not quite right for us, or didn't seem overly thrilled by the little people longing to cuddle them. Finally, when we thought our search was coming to an end for the day, a staff member opened up a cage and introduced us to a very quiet, very sweet, nine-month-old teenie cat aptly named "Tiny".
I'm not sure I was a believer in love at first sight until my five-year-old daughter met Tiny. I truly believe we were meant to adopt Tiny that day as never has a cat wanted as many cuddles and snuggles as our girls can give!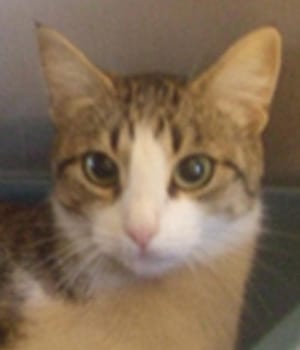 We sat with Tiny for a while and it was clear there was no leaving without her. We did have to go home for the night to get all the gear ready, but the very next morning we were back, carry cage in hand, ready to take our fur baby to her new home.
Tiny is now called Maci, and she fit into our home as if she was made just for us. She purred the whole way home in the car, so loud in fact, it made us all giggle. She purred as she walked into our home for the first time, and she purred as she snuggled between the happiest, most thankful little girls in all the world on the most precious of Thanksgivings.
We are forever thankful for that day, and we think that Maci, who was found wandering by the roadside is thankful for us in return.
There are few things for certain in this life, but one is the unconditional love of a happy animal. For the rest of her long life we intend to shower teeny tiny Maci with all the love in the world.
It's fantastic to hear that Maci has become part of the family so quickly. She is such a lucky cat to be warm and happy in a loving forever home instead of living life as a stray. Thank you so much for making adoption your first choice and giving Maci something to be really thankful for on Thanksgiving.