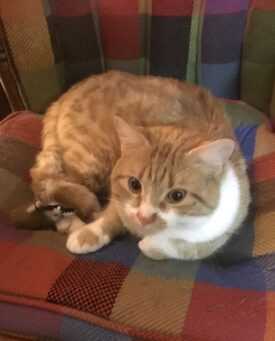 However often we may believe that we are the ones who adopt our pets, really, most of the time they choose us.
This was certainly the case for Joanne and her husband when they met Timothy at the BC SPCA Williams Lake Community Animal Centre in December 2021. Of course, they immediately fell in love with his irresistible charm.
Evidently, Timothy also became quickly attached to his new guardians.
Just a couple of weeks into Timothy's new life, Joanne wrote to us to share all the ways he brings them joy every day:
Timothy has turned my life upside down. I may have adopted Timothy, but he has also adopted me.
Timothy follows me from room to room. When I'm in my office, he comes in and lies on the ironing board in there. Once, he fell off when he rolled over, but I was there to support his bottom while he was hanging by one paw. I gave him a big cuddle right away.
Timothy loves his toys. When he plays, it's serious business. He chewed the tail off the catnip mouse I purchased for him. He also loves to be groomed. I groom him every morning, and he just rolls over and over.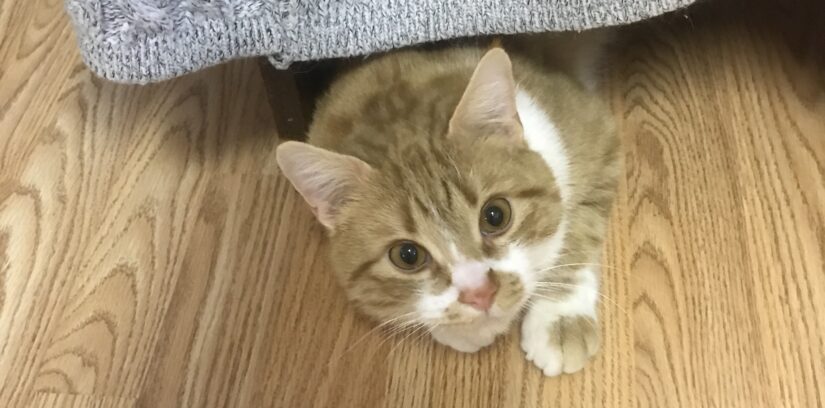 Timothy is extremely inquisitive. There was one time when my husband was bent over, crouching into the cramped storage space we have under the stairs. Timothy followed him in. When my husband found what he was looking for, he backed his way out while still stooped over. He was almost out when he realized Timothy was still in there. So, he went back in.
Meanwhile, Timothy had climbed up onto a shelf. At the precise moment my husband began to back out, Timothy hopped down onto my husband's back. This resulted in a shout of shock from the man and an orange streak from the cat as he headed for his safe spot under the bed.
Fortunately, my husband found the entire incident to be typical of Timothy. Shortly afterwards, Timothy came back out to us, looking for some tummy scratching.
Whenever I sit down, Timothy jumps up onto my lap, settles himself and turns on the purr motor—even when I'm at my computer. I adore all the attention and cuddles he gives me.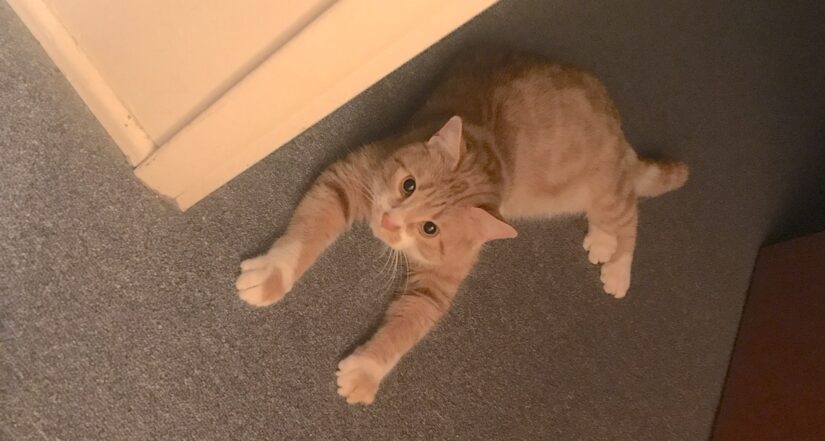 My friend loaned me a scratching post, but Timothy hasn't shown any desire to use it yet. He will race around and around the house before he flops down, pretending to be asleep, waiting for some form of movement. Then, he's up and off again.
I think Timothy is happy. I know I certainly am. We have no other pets in our home, and our children have grown and left, so Timothy is it for us.
In my opinion, adopting from the BC SPCA is the best way to find a pet. Between the thorough examination given prior to adopting and the history provided, I cannot imagine adopting a pet from any other source. I am one very content adopter.
Thank you to you and your husband, Joanne, for choosing adoption as your first option. We are thrilled that you and Timothy are enjoying your new lives together. It certainly seems like Timothy has made himself at home. Thank you for your incredible endorsement when it comes to finding a new pal to adopt. We wish you many more years creating funny and sweet memories with one another.
Have you adopted an animal from the BC SPCA and want to share your joy with others? Submit your adoption story!