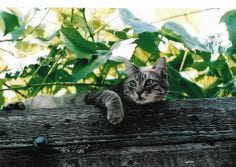 Timothy came to the BC SPCA Nanaimo & District Branch years ago in 2008. He was as funny as he was cute and cuddly, and we all adored him.
This handsome cat was a very affectionate little guy with a lot of personality. Once you got to know him, he was playful and lovely to pet and snuggle with.
Though he was a friendly cat, he didn't care for strangers being in his personal space and was a bit territorial. He was searching for a guardian who had patience and lots of TLC to give away.
Timothy found his new forever guardian in November 2008. They sent us this update:
We adopted Timothy from the Nanaimo SPCA. We had just lost Pussy Willow and we missed having a cat so I started to look for another Grey Tabby cat like Pussy Willow and found Timothy who was then called "Little Guy" by the people who had surrendered him to the SPCA.
Timothy is our fourth cat since moving to Canada and he's just simply the best cat we have had. Although he doesn't like people coming to the house, he's so affectionate, we love him to bits and he's so spoilt!
That's so lovely to hear that Timothy has been happy over these years, getting spoiled by guardians that love him so much. Thank you for giving him his forever home and for choosing adoption as your first option.