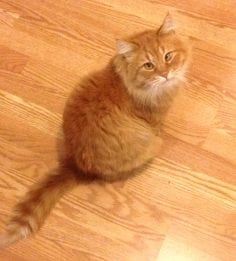 Sammy came into the care of the BC SPCA Nanaimo & District Branch at two years old, in October 2017, when a family spotted him wandering around the Black Bear Pub in Nanaimo.
Sammy's coat was full of mats, and he was wary of people, but they decided to take him in while they searched for his family. After much searching and no luck, they brought him to the BC SPCA Nanaimo & District Branch to find a new forever home.
A beautiful Maine Coon ginger tabby full of personality, it was only a matter of days before Ashley decided Sammy was meant to be in her life. Having now shared her home with Sammy for a few months, Ashley gave us an update: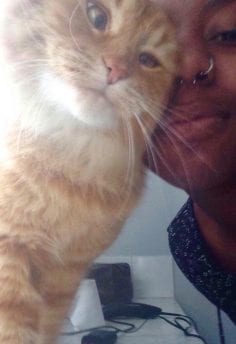 Sammy is the light of my life. I had been checking out the BC SPCA website for over a month and one day I went on and saw my lovely Sammy. Right then and there I decided I had to get him.
As soon as I brought him home and let him out of the carrier he sniffed around and then came up and head butted me, which is his way of showing affection.
I honestly think Sammy has done more for me than I have for him. He's one of the best things in my life and I enjoy his company.
Sammy's very talkative, friendly, and loving. His favourite spot in the house is the window where he's free to watch outside. He is a lovely boy and I'm truly so lucky to have him be a part of my life.
Thank you, Ashley, for choosing to adopt your new best friend.