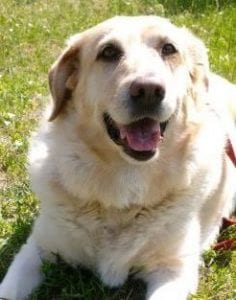 Sydney arrived at the BC SPCA Vernon Branch on May 30, 2016. She was six-years-old and surrendered because her previous guardians had too many pets. So she was looking for a new family that would be able to give her the attention she needed and deserved.
As a more mature dog, she had already picked up some basic training growing up, so walking her was a cinch and she always knew what to do for a treat.
But there needed to be a little bit of work when it came to her health. She was currently taking thyroid medication and she was allergic to grains so she needed a grain-free diet as well.
She was also a bit heavier than what was a healthy weight so her new guardians would have to help slim her down in order for her to be as happy and mobile as could be.
In June 2016, she found her new forever home. Her guardians gave us this update: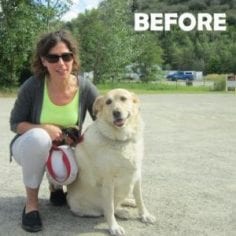 Hello. I had promised an update on Sydney who came to live with us in June from your shelter.
We are proud to say that she has reached her goal weight and her blood levels for thyroid have been vet checked and are perfect.
In total, she has lost 46 pounds and her energy has gone through the roof. She runs like a deer through the woods with us on our hikes.
We absolutely love having this girl as part of our family.
Thanks!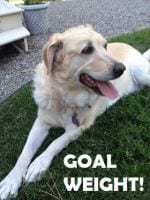 We are so glad to hear Sydney is doing so well. We love that she can now play and goof around with her new family as much as she wants. She seems to be the perfect fit for your family and she looks very happy to have all her energy back again.
Thanks for taking such great care of her, we love that she is getting the Happy Ending she deserves. And thank you so much for making adoption your first option.