Swift is a gorgeous husky cross that was surrendered into the care of the BC SPCA Squamish Valley Branch with four of her siblings on April 10, 2011. Such a beautiful puppy, she has two different coloured eyes and was a bouncy little girl. Swift was about two months old and went into foster care right away as no dogs or puppies physically stay at the Squamish branch; instead they are all looked after in homes by wonderful volunteers.
Before Swift was to find her new home she went to get spayed and was then ready for adoption. She was bound to grow into one heck of a big girl and we made sure that anyone interested in adopting her knew as much. Less than two weeks after coming into our care, Swift had enticed a husband and wife with her adorable face and energetic, gung-ho personality. She has since been living in their home for almost a year now and they have sent in an update on how everything is going.
It is almost Cally's (original name was Swift) one year birthday and I thought it was time for a little update.  My husband and I adopted her from the Squamish SPCA on April 24, 2011 when she was just eight weeks old and we instantly fell in love.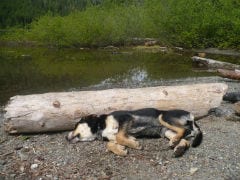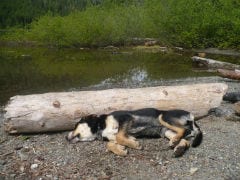 Even though she is growing up fast (now over 65 pounds!) she will always be my little pup. Cally and I have had an amazing time and she was exactly what I wanted: a dog full of personality. She absolutely loves swimming, playing fetch, belly rubs, hiking, and "helping" me garden  but she hates shovels, vacuums and park gates.
Cally is a smart girl who learned six basic commands plus speak, high five, and rollover. But I really think that she is the one that taught me the most, as Roger Caras said, "Dogs are not our whole life, but they make our lives whole."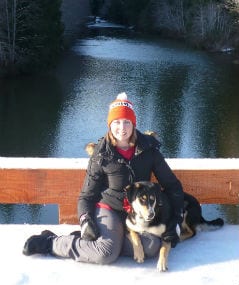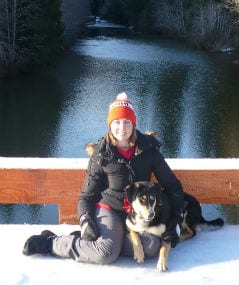 We have gone on tons of adventures including camping, snowshoeing, fundraising walks and road trips and we look forward to many more years of fun. I am so thankful to have Cally and I think she is pretty happy with her new life with us!
Thank-you for the opportunity to enrich our lives with the addition of Cally.
Stephanie
She is growing up fast, but it's great that her loving family is not only keeping up with her, but setting the pace too. Congratulations on Cally turning out to be so great, it is definitely thanks to your family's hard work put forth.