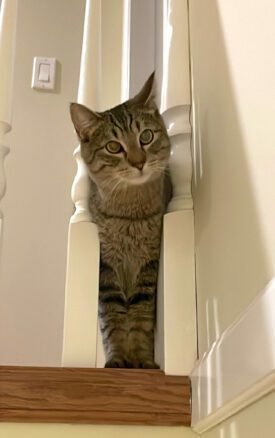 Sometimes when we adopt a pet, they teach us lessons we were never expecting.
When Sunny was transferred to the BC SPCA Tri-Cities Education & Adoption Centre in October 2021, we knew it wouldn't be long before he was adopted. Sunny was young, charming and irresistible.
However, he didn't have an easy start to his life, so his purrfect guardian would also need to give him all the attention he desired.
When Ruby met Sunny, she was ready to be his everything. A year and a half later, Ruby has shared an update with us:
"Sunny was transferred from the BC SPCA Williams Lake Community Animal Centre to the BC SPCA Tri-Cities Education & Adoption Centre.
While signing the adoption agreement and going over the process with the staff, they told me Sunny was abandoned along with his siblings in a box in Williams Lake. I grieved for Sunny and his littermates, since they were in such an early stage of their lives and surely missing their mother.
Once I brought him home, Sunny enjoyed exploring his new gigantic home. He has been an attention seeker ever since he was a kitten. He loves to sit on my laptop–he knows that is the easiest way to get my attention while I'm studying. 
View this post on Instagram
I see him every morning. He greets me with his 'meow' like he is saying 'hello' to me. He also enjoys tasting my food every day and he must think of himself as a human. Whenever I have bubble tea, he tries to drink it from the straw or even push it off the counter.
One day, I took a nap on the sofa. Sunny couldn't resist sitting on my tummy and accompanying me while I slept. He is the sweetest, most clever and sometimes naughtiest cat I have ever met.
Since adopting Sunny, I have become more sociable. He has given me the opportunity to build rapport with others who have pets–even while in the animal hospital.
When adopting a pet, on the surface it can seem like we're just giving them a forever home, it really is so much more than that. Sunny taught me the importance of parenting and caring for someone in need."
Thank you, Ruby, for choosing adoption as your first option. It sounds like you and Sunny have been building a true bond ever since you welcomed him into your life. We are thrilled to see how quickly Sunny settled into his new home, especially once he figured out how to get (and keep) your full attention at all times. We wish you many more joyful moments over the years to come.
Have you adopted an animal from the BC SPCA and want to share your joy with others? Submit your adoption story!
Resources for cat guardians
How do I know if my cat loves me?