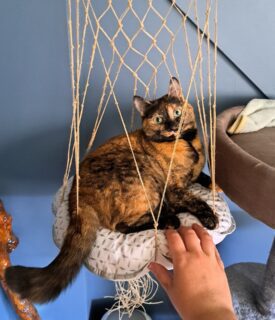 Some cats are not lap cats, and that's okay. However, that may leave some of us with an empty lap longing to be accompanied with a warm, purring companion.
So, the natural answer is to adopt another cat—at least, that was Brittany's solution.
In May 2021, Brittany found herself on the BC SPCA website searching for her new snuggly friend. It was here that Suki initially caught Brittany's attention.
Once Brittany went to meet Suki at the BC SPCA Kamloops Community Animal Centre, she knew this sweet Tortoiseshell would be her purrfect match.
A year and a half later, Brittany has written to us with an update on how Suki has settled into their family and even charmed her reluctant feline sister:
"We adopted our tortie, Suki, last year after I had to rehome my two bunnies.
My husband's cat Midna (also adopted from BC SPCA Kamloops Community Animal Centre in 2017), while friendly, is not much of a lap cat. I longed for a cat to sit with while we watched movies and spent time together in the evenings.
Suki caught my eye the instant I saw her on the BC SPCA website. Her tortie coat and kinked tail reminded me of the barn kittens I played and cuddled with growing up.
Upon meeting Suki, I knew she would be the perfect lap cat. Her calm, gentle demeanour continues to endear everyone who meets her.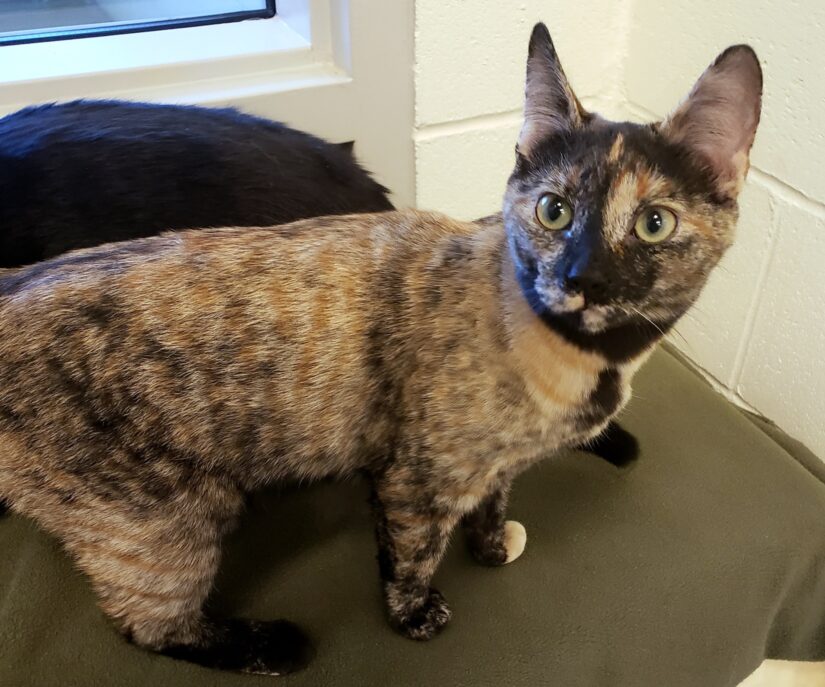 Midna was not pleased to have another cat in the home at first. We were worried that the two of them would not be compatible. Suki, having been raised with other cats, insisted that they should be friends, seemingly unaware that Midna was hostile towards her at all.
After only a couple weeks, Midna realized there was no getting away from this ridiculously friendly cat so she might as well accept her. The two of them are now good friends.
Midna pretends to be indifferent, maintaining her role as the dignified lady that she is, yet they still spend many hours chasing each other through the house at zoomie hour, wrestling and grooming each other.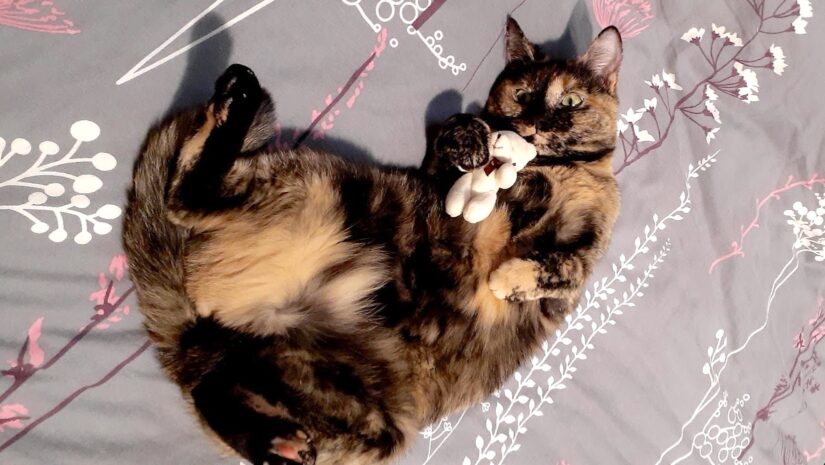 Suki is the baby of the house. She is sweet, gentle, playful and still up to her kitten antics. The two of them together mean there's never a dull moment in our household.
We encourage anyone who is thinking of getting a pet to check the BC SPCA website first. We are grateful to the BC SPCA Kamloops Community Animal Centre for helping us find our two beautiful girls."
We are so thankful to you, Brittany, for choosing adoption as your first option. We're thrilled that you found the affectionate lap cat you longed for in Suki. She has such an irresistible personality and we are so glad she was also able to win over Midna. Thank you to you and your husband for providing such a loving home for Suki. We wish you many more years filled with happy memories and endless kitty shenanigans.
Have you adopted an animal from the BC SPCA and want to share your joy with others? Submit your adoption story!
Resources for cat guardians
How do I know if my cat loves me?